SXU Announces 2019 Commencement Student Speakers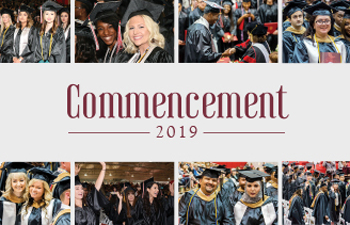 Two graduating Saint Xavier University (SXU) students have been selected to give speeches at next weekend's commencement ceremonies. These students, selected through a competitive process, created speeches with words of inspiration to the graduates reflective of the time they spent at SXU.
The 2019 Commencement Ceremony student-speakers will be Ronald Guhl and Janica Arcenal.
Guhl, Bachelor of Arts degree in communication, will deliver his speech on May 11 at 9:30 a.m. to graduates of the College of Arts and Sciences. Arcenal, Bachelor of Science degree in nursing with minors in gerontology and psychology, will deliver her speech on Saturday, May 11 at 3 p.m. to graduates of SXU's Graham School of Management (GSM) and School of Nursing and Health Sciences (SONHS). Both ceremonies will be held at SXU's Shannon Center with doors opening one hour before the ceremonies begin.
Guhl is a non-traditional student who decided to return to school thirty years after graduating from high school. He first attended Moraine Valley Community College where he majored in communications, appeared on the honor roll each semester, became a member of Phi Theta Kappa Honor Society and graduated with his Associates Degree Magna Cum Laude in May 2016. As a student at SXU, Guhl twice received the African American GPA Award and received the Michael Clark Service Award. He continues to live his Mercy values each day in his role as a foster parent for children with mental health concerns. Upon graduating, Guhl plans to pursue his graduate degree and his goal of working toward a career as a collegiate professor of communication and public speaking.
Arcenal is a member of SXU's Honors Program who has been vigorously involved in student organizations such as the Student Nurses Association and the National Society of Collegiate Scholars. In her time at SXU, Arcenal has also be a student ambassador, a Cougar Peer Mentor and a member of the Schmitt Scholars Program, where she discovered an interest in domestic violence advocacy. She has pursued this interest in her Honors Senior Project and Gerontology Capstone Project, conducting research on intimate partner violence among Filipinos and elder abuse. While she looks forward to the next chapter of her life, she plans to always carry and treasure the lessons, opportunities, memories and friendships she has created at Saint Xavier University.
The Spring 2019 Commencement ceremonies will be streamed live and can be accessed from the SXU commencement webpage. A reception will follow each ceremony in the O'Malley Quad of the Warde Academic Center.
For more information, visit the commencement webpage or email commencementFREESXU.
---