Saint Xavier University Celebrates Women's History Month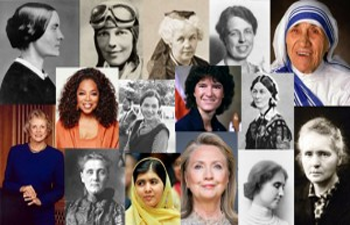 Women's History Month is annually declared by presidential proclamation as a month dedicated to highlighting the contributions of women throughout history as well as in contemporary society. In the United States, this yearly celebrated month traces its beginnings back to the first International Women's Day in 1911, which is celebrated each year on March 8. Some regions of the world commemorate this event with general celebrations of respect, appreciation and love towards women, while others have celebrations for women's economic, political and social achievements.
In 1978, the school district of Sonoma, Calif. participated in Women's History Week, an event designed around the week of International Women's Day. Presentations were given at dozens of schools, hundreds of students participated in a "real woman" essay contest and a parade was held in the downtown area.
In 1979 a fifteen-day conference about women's history was held at Sarah Lawrence College. When its participants learned about the success of the Sonoma County's Women's History Week celebration, they decided to initiate similar celebrations within their own organizations, communities, and school districts.
President Jimmy Carter issued the first presidential proclamation declaring the week of March 8, 1980, as National Women's History Week.
"From the first settlers who came to our shores, to the first American-Indian families who befriended them, men and women have worked together to build this nation," said President Carter. "Too often the women were unsung and sometimes their contributions went unnoticed, but the achievements, leadership, courage, strength and love of the women who built America was as vital as that of the men whose names we know so well."
In 1981, responding to the growing popularity of Women's History Week, Sen. Orrin Hatch (R-Utah) and Rep. Barbara Mikulski (D-Maryland) co-sponsored the first joint congressional resolution proclaiming a Women's History Week.
Throughout the next five years, Congress continued to pass joint resolutions designating a week in March as "Women's History Week" and authorizing the President to issue a proclamation to inform the country of this recognition and urge people to study the contributions of women to U.S. history.
In 1987 after being petitioned by the National Women's History Project, Congress passed Pub. L. 100-9, which designated the month of March 1987 as "Women's History Month." This law requested the President to issue a proclamation calling upon the people of the United States to observe this month with appropriate activities and ceremonies. President Reagan then issued a presidential proclamation proclaiming March 1987 as "Women's History Month" and calling upon all Americans to mark the month with observances to honor the achievements of American women.
Between 1988 and 1994, Congress passed additional resolutions requesting and authorizing the President to proclaim March of each year as Women's History Month. Since 1995, U.S. presidents have issued annual proclamations designating the month of March as Women's History Month.
SXU promotes and recognizes the importance behind their founding members, the Sisters of Mercy. The leadership and vision of Mother Mary Catherine McAuley, founder of the Sisters of Mercy, who began educating girls and young women in Dublin, Ireland in the 1820's, paved the way for succeeding generations of Mercy to establish highly recognized institutions of learning throughout the English-speaking world. Catherine McAuley raised the status of women through education and training, giving them the necessary skills to earn a living and to provide for themselves. SXU is a living testament to Catherine's vision, practical wisdom and commitment to excellence.
---