SXU Celebrates Mission Day and Re-Dedicates the Mercy Heritage Walk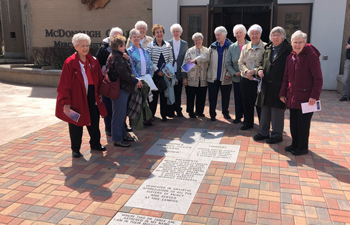 Marked by a truly beautiful sunny day on March 27, Saint Xavier University (SXU) came together in the McDonough Chapel to observe the annual tradition of Mission Day. Every spring, this tradition is celebrated to focus on the closing phrases of the University Mission Statement. It is the call to educated persons to "serve wisely and compassionately in support of human dignity and the common good."
This year's Mission Day was also marked by a very moving occasion with the re-dedication of the Mercy Heritage Walk. At the beginning of the noon Mass, SXU President Laurie M. Joyner, Ph.D. stepped before those gathered and reflected on the history of the McDonough Chapel, the Mercy Ministry Center and the hard work of countless dedicated employees and Sisters of Mercy who helped bring SXU to where it is today, referencing the Mercy Heritage Walk just outside the doors.
In the last two decades, the decorative walkway leading up to the chapel's entrance has deteriorated and the etched names of Sisters of Mercy who have served at SXU since its move to the 103rd Street campus in 1956 have become completely unrecognizable. In an effort to continue to honor the original donors to the Mercy Heritage Walk and to restore and expand the walkway, a new design has been created. Inlaid in the walkway is now large granite pieces that include an engraved Mercy Cross followed by the University's founder, Mother Frances Xavier Warde, as well as the names of the five sisters who established the Sisters of Mercy in Chicago in 1846. All the Sister of Mercy past presidents of the College-University are also inscribed along with the engraved statement: Dedicated in grateful appreciation to all the Sisters of Mercy who served at this campus. The renovated Mercy Heritage Walk attests to Saint Xavier's strong Mercy heritage and SXU's commitment to honoring the enduring legacy of Mercy.
As Mass drew to a conclusion, Director of Mercy and Heritage Jenny DeVivo, Ph.D. stepped forward and paid recognition from all the Sisters of Mercy whose names appear on the Mercy Heritage Walk and those gathered in the McDonough Chapel then paid their respects to the Sisters of Mercy in attendance, applauding them for all they have done for SXU and for the global community.
Saint Xavier University is proud of its lasting Mercy heritage and looks forward to where the future will take the University and its community. Thank you to the Sisters of Mercy and to all who have made an impact at SXU!
---