SXU Chemistry Students Present at ACS Conference in Orlando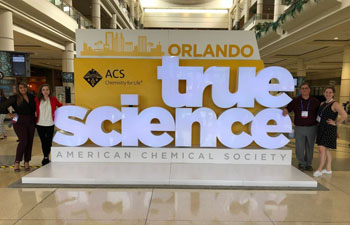 The American Chemical Society (ACS) organizes two national meetings and expositions every year, each one attracting an estimated 11,000 to 13,000 chemists, chemical engineers, academicians, graduate and undergraduate students. During the meeting, scientists present new multidisciplinary research, hear the latest information in their areas of professional interest and network with colleagues.
At the 257th ACS National Meeting and Exposition held in Orlando, Florida, Saint Xavier University (SXU) was represented by three senior chemistry majors who presented on a variety of topics. Marissa Petrey presentation was prepared with help from faculty mentor Julia Wiester, Ph.D. and was titled "FRET's Impact on Solar Cells: A Study on How FRET Dyes Impact Efficiency". Lenore Lomeli presented two projects. The first was prepared with help from faculty mentor Sister Frances Crean, Ph.D. and was titled "Arsenic Levels in Protein Powder" and the second was prepared with faculty advisor Bindhu Alappat, Ph.D. and titled "Chemistry: the Science of Matter, and it Definitely Matters at Saint Xavier University, Chicago". Steven McComis' presentation was prepared with faculty mentor Debbie Mulhearn, Ph.D. and titled "Synthesis and Analysis of Novel Furanocoumarin Derivatives".
Wiester also presented at the conference at a talk titled "Multi-week Project in Physical Chemistry Lab Comparing UV/VIS, IR, Flourescence and Raman Spectroscopies".
Programming for the exposition is planned by 33 technical divisions that cover all scientific fields, multidisciplinary programming and ACS committees. Each exposition features more than 7,000 presentations organized into an all-encompassing technical symposium that highlights important research advancements with over 250 exhibitors showcasing new technological developments.
SXU is proud of its dedicated students, faculty and staff and their ongoing research and accomplishments.
---