SXU Collaborates with Chicago Latino Film Festival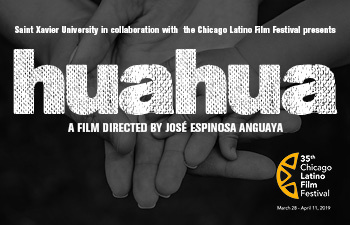 Saint Xavier University (SXU) in collaboration with the Chicago Latino Film Festival invites all to attend a viewing of "Huahua", a documental film by Jose Espinosa Anguaya. The event will be held at 7 p.m. in McGuire Hall on Wednesday, April 3 and is free and open to all the community.
Director Jose Espinosa Anguaya and producer, co-scriptwriter and partner Citlalli Andrango face a difficult choice when they find out that they are going to be parents -- to raise their newborn in Ecuador's capital Quito or in their native village. Jose returns to the northern Ecuadorian town of Otavalo to seek counsel among his family and town residents while Citlalli has her own questions. Together, and in their own way, Jose and Citlalli explore the history of their people, their identity and their role in society.
The 2019 screenings marks the 35th Chicago Latino Film Festival, held March 28 to April 11 at the AMC River East 21 Theatres. SXU is delighted to have the chance to support such a remarkable collection of works and show Anguaya's beautifully shot documentary.
For more information about the Chicago Latino Film Festival or about the film screening, contact Student Activities at studentlifeFREESXU or 773-298-3974.
---