SXU Announces 2019 Commencement Ceremony Speakers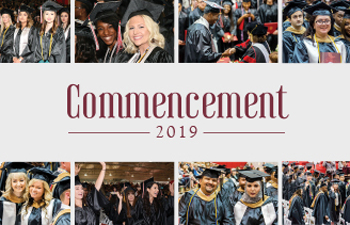 It is that time of year when students transition from scholars to career professionals. While donning academic regalia, graduates across the nation will hear inspirational speeches from those who have paved the way to success. Saint Xavier University (SXU) is pleased to announce the 2019 Commencement Ceremony speakers who will share their knowledge and expertise while congratulating this year's graduates on achieving their high-quality academic degrees.
Most Reverend Gerald F. Kicanas, D.D., Ph.D., Bishop Emeritus of the Diocese of Tucson will receive an honorary degree Doctor of Humane Letters, honoris causa and will deliver the Commencement address on Saturday, May 11 at 9:30 a.m. to the graduates of SXU's College of Arts and Sciences (CAS). CME Group Chairman and Chief Executive Officer Terrence A. Duffy will receive an honorary degree Doctor of Public Service, honoris causa and will deliver the Commencement address on Saturday, May 11 at 3 p.m. to graduates of SXU's Graham School of Management (GSM) and School of Nursing and Health Sciences (SONHS).
The Commencement ceremonies will be held in the Shannon Center, located at 3700 West 103rd Street.
Ordained a priest for the Archdiocese of Chicago on April 27, 1967, Bishop Kicanas has served in various capacities in the seminary system of the Archdiocese of Chicago for over 25 years, preparing men for parish ministry. In 1984, he was appointed Rector of Mundelein Seminary at the University of St. Mary of the Lake, which is the theologate graduate level seminary of the Archdiocese. Concurrently, he served as a lecturer in Community and Organizational Development at Loyola University. He was later ordained a bishop on March 20, 1995 and installed as Bishop of Tucson on March 7, 2003. Kicanas has served as the vice president of the United States Conference of Catholic Bishops (USCCB) and has served in a number or roles for the USCCB over the years.
Duffy serves as chairman and chief executive officer of the CME Group where he is responsible for overseeing the world's leading and most diverse derivatives marketplace. In 2018, CME Group handled more than 4.8 billion contracts. He has been a CME member since 1981 and a board member since 1995, serving in various roles as vice chairman of the board, executive chairman and president. Duffy currently serves as Co-Chair of the Mayo Clinic Greater Chicago Leadership Council, Vice Chairman of the CME Group Foundation and President of the CME Group Community Foundation.
This event requires tickets for admission. For more information about SXU's 2019 Commencement ceremonies, please visit SXU's website or contact commencementFREESXU.
---