SXU Gives Back for the Holiday Season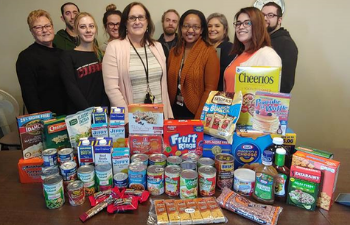 Saint Xavier University (SXU) is living its mission to serve compassionately by giving back for the holiday season. Offices, departments and student organizations all around campus are working to impact the community by holding various drives and collections.
For the last five years, adjunct faculty and Media Relations Specialist Breeanna Villalpando has been organizing a Thanksgiving food drive for the local community in need. The University Relations (UR) team was eager to contribute, providing over 100 non-perishable food items to a local food pantry. Also an alumna, Villalpando fully embraces and lives the University's mission. "I've loved each of the components of the core values and mission statement since I was a student, and over the years, I've tried my best to embody them daily," said Villalpando, who also serves on the University's Mission Integration Committee and plans to make the UR food drive a yearly event.
The SXU Service Club frequently participates in events that benefit others, and for the holiday season, they made 350 sandwiches and 120 snack bags to donate to the Port Ministries kitchen in Chicago's Back of the Yards Neighborhood. "Service Club offers good ways for students who don't have a lot of time to be able to get involved and give back. Making sandwiches only takes a few minutes and can feed numerous people, so by doing things like that, even as a busy person, you can provide a service," said Isabella Martucci, Service Club president. Service Club also recently teamed up with Campus Ministry and Mercy Circle to donate IV bags to St. Jude Children's Research Hospital.
In an effort to give back to men and women serving overseas, Tau Sigma, the national transfer student honor society, set up collection bins around campus for items like toiletries and non-perishable goods to put together care packages for the troops to send overseas. "Tau Sigma and the Student Veterans Alliance (SVA) sent over 60 care packages to bring holiday cheer to our service members. It feels good to give back to those who sacrifice so much!" said Jodi O'Toole, assistant director of Transfer Student Services.
Campus Ministry participates in numerous service and social justice projects, and this holiday season, they ran a food drive to benefit the Greater Chicago Food Depository. Marykate Walczak, a peer minister for Campus Ministry said, "Through my peer minister position, I've organized drives where University students can donate to people in need. We collect used books for children, toiletries for the homeless and canned food for those struggling. It feels incredible to see all the people who yearn to make an impact in their community."
The SXU Schmitt Scholars, who work to demonstrate exceptional leadership, collected donations for the Pillars-Constance Morris House Domestic Violence Shelter. During the collection process, they worked with integrity and Mercy character to serve others. Bins for food, bedding, personal items and school supplies were set up in the Warde Academic Center, Student Organization Center and Chapel, and all items will benefit victims of domestic violence. Schmitt Scholar Nancy Lesnicki said, "Supporting important causes leaves an immeasurable impact and is endlessly rewarding. Each member of the SXU community should pursue the causes you care for. You will be surprised by the change you can create by using your time to help others."
Like Martucci and Lesnicki, Villalpando also urges current students to find ways to give back. "Take some time to do a little research on the myriad of community opportunities and find what fits for you. An easy thing to do is go to the dollar store once per month and fill up a large paper bag with non-perishable goods and donate it to a food pantry in need. You can participate in walks and runs, cook and serve food at local shelters, donate old clothes or even just make monetary contributions to research facilities that are close to your heart," said Villalpando.
SXU is proud of how its staff, faculty and students lead in living the mission of service excellence.
---