SXU Honors Coach Bob Hallberg at His Last Home Game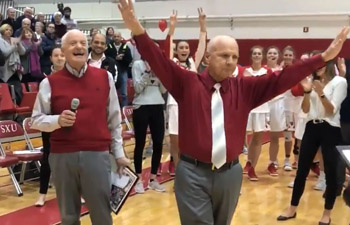 Saint Xavier University's (SXU) women's basketball coach Bob Hallberg reached an impressive milestone this week when the 21st-ranked Cougars claimed a commanding 73-44 victory against Indiana University-South Bend, marking Hallberg's 500th career victory at SXU in what will be his final season before retiring.
Coach Hallberg has led a lengthy and very successful 49-year career that has included many years as SXU's athletic director and inductions into a number of Halls of Fame. He is currently a Hall of Fame member at SXU, Leo High School, University of Illinois-Chicago, Chicago Catholic League, Illinois Basketball Coaches Association (IBCA), Chicagoland Sports and Chicago State University. Hallberg has also received the Distinguished Alumni Award from Chicago State University and, in 2018, he was honored by IBCA as the fourth coach in Illinois basketball history to achieve more than 1,000 overall career coaching victories.
During the game against Indiana-South Bend, the Cougars went on and tied a program record by achieving an impressive 17 blocked shots, the highest single-game total for any NAIA team this season and the second-highest total in all of women's collegiate basketball in the 2018-2019 season. Junior Chanel Fanter of Crystal Lake, IL led the team with 28 points and eight blocks, sophomore Gabby Kreykes of St. John, IN collected 15 points and sophomore Sidney Lovitsch of Grayslake, IL tallied 12 points.
The Cougars returned to action at the Shannon Center on February 13 for the final home game of the regular season against Judson University, but there was a special surprise waiting for Coach Hallberg before tipoff. His team had gathered alongside some of his former athletes and colleagues and he received a lengthy standing ovation from a packed crowd. Presented with a plaque honoring all he had accomplished during his legendary career, Coach Hallberg waved to the fans and embraced what was an emotional moment for everyone in attendance.
"It has been a great run," said Hallberg. "I have been very fortunate to coach great student-athletes, work with outstanding coaches and be supported by a great administration."
Hallberg became the first head coach of the SXU women's basketball program in 1999 and has led the program to over 500 wins in its 20 years of existence. In the last two decades, the Cougars have claimed 13 CCAC regular season championships, 10 CCAC Tournament titles and a back-to-back NAIA Fab Four appearance, reaching the national championship game in 2017. In their final home matchup against Judson, Hallberg coached the team to a 70-51 victory. The Cougars will wrap up the 2018-2019 regular season on the road against Robert Morris University on Saturday, tipoff with the Eagles set at 1 p.m.
Saint Xavier University could not be more proud to have had Coach Hallberg make history in its Athletics Department and the entire SXU community and beyond wishes him nothing but the very best. Congratulations Coach on a truly awe-inspiring career!
---