SXU to Host Annual Breakfast With Your Legislators on March 11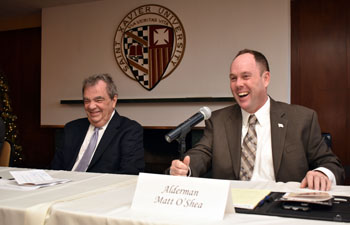 Saint Xavier University (SXU) will host its annual Breakfast With Your Legislators on Monday, March 11. Local business professionals and community members are invited to meet and discuss issues with Chicagoland elected officials at the thirteenth annual breakfast. Elected officials scheduled to attend are Illinois State Senator Bill Cunningham, State Representative Kelly Burke, Cook County Commissioner John Daley and Chicago 19th Ward Alderman Matt O'Shea.
Networking will begin at 7:30 a.m. in the Butler Reception Room -- located in the Warde Academic Center -- followed by breakfast and the program at 8 a.m. General admissions for the event is $15 per person and breakfast is included in the cost.
SXU is delighted to host this annual event and encourages community member to attend and join the conversation with its elected officials. If you have any questions, please contacted the Office of Special Events at 773-298-3748 or specialeventsFREESXU.
---