SXU Invites All to Breakfast With Your Legislators on March 11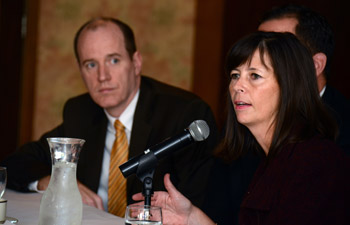 Saint Xavier University (SXU) will host its annual Breakfast With Your Legislators on Monday, March 11, 2019. Local business professionals and community members are invited to meet and discuss issues with Chicagoland elected officials at the thirteenth annual breakfast. Elected officials scheduled to attend are Illinois State Senator Bill Cunningham, Illinois State Senator Michael Hastings, State Representative Kelly Burke, Cook County Commissioner John Daley and Chicago 19th Ward Alderman Matt O'Shea.
Senator Bill Cunningham is a lifelong resident of Chicago and the 18th Senate District. He served in the Illinois House of Representatives from 2011 to 2013 prior to his election to the Illinois Senate, where he now represents sections of Orland, Worth and Palos townships in the southwest Cook County suburbs and the neighborhoods of Mount Greenwood, Beverly, Morgan Park and Auburn-Gresham in Chicago. While serving in the Legislature, Cunningham has sponsored several pieces of legislation designed to further crack down on registered sex offenders and to protect senior citizens. He continues to advocate for legislation that would ensure the integrity of Illinois elections and has passed several bills that have ended ticket quotas for the Chicago Police Department.
Senator Michael Hastings is a graduate from the United States Military Academy at West Point where he studied Business Management and Civil Engineering. He rose to the rank of captain during his ten years of distinguished service before his honorable discharge and transition to public service. In 2012, he was elected to the Illinois State Senate as one of the youngest senators in state history. He works on legislation to improve the social and financial statues of Illinois, serving as the chair of the Senate Energy and Public Utilities Committee and vice-chair of the Senate Veterans Affairs Committee.
Representative Kelly Burke is a member of the Illinois House of Representatives where she has represented the 36th District since 2011. The 36th District includes the areas of Beverly, Mount Greenwood and Auburn-Gresham neighborhoods in Chicago as well as parts of the surrounding suburbs of Oak Lawn, Evergreen Park, Chicago Ridge, Hometown and Palos Hills. She is currently the Chairwoman of the Higher Educations Committee in the 99th General Assembly and also serves Agriculture & Conservation, Health Care Licenses, Higher Education Appropriations, Labor & Commerce and Tollway Oversight.
Commissioner John Daley serves as the Democratic Committeeman for the same 11th Ward that his father and brother served before him, assuming the position in 1980. Daley oversees the ward's 50 precincts and their captains throughout the year. Among the duties of the ward committeemen are to determine Democratic endorsed nominees for office within their region.
Alderman Matt O'Shea currently serves Chicago's 19th Ward in a role that he assumed in 2011. Throughout his political career, O'Shea has made public safety in his ward a key priority, helped expand local schools, attracted new restaurants to the neighborhood and organized investments and growth in the commercial strips.
The March 11th event will begin with networking at 7:30 a.m. in the Butler Reception Room -- located in the Warde Academic Center -- followed by breakfast and the program at 8 a.m. General admissions for the event is $15 per person and breakfast is included in the cost. Pre-registration is encouraged as limited seating will be available the day of the event. Register online by visiting the Breakfast With Your Legislators webpage.
SXU is delighted to host this annual event and encourages community member to attend and join the conversation with its elected officials. If you have any questions, please contacted the Office of Special Events at 773-298-3748 or specialeventsFREESXU.
---