SXU's Graham School of Management Hosted Mayoral Candidate Bill Daley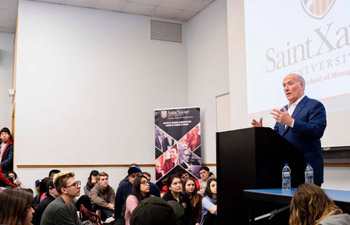 Saint Xavier University's (SXU) Graham School of Management had an auditorium packed with students, faculty and staff intrigued by the political and career insight given by special guest lecturer Bill Daley on Tuesday morning. A candidate currently campaigning for the mayoral office in Chicago, Daley has served two U.S. presidential administrations -- as former President Barack Obama's White House Chief of Staff and former President Bill Clinton's Secretary of Commerce.
Calling back to his experiences in politics and his recent time as the Midwest Region President of JP Morgan, Daley shared with the students his thoughts on the current political and economic landscapes, touched on his own history in business, shared stories of his time in public service under two presidents and opened the floor for students to ask questions. The Graham School had several individuals raise their hands and ask for Daley's opinions on the current status of local taxes, the recent exodus of residents moving to Indiana, his thoughts on Chicago's public school system and charter schools and his advice on entering the workforce in both Chicago and the world beyond.
"If there is one thing I could tell you to do to find success, it's to surround yourself with curious people," said Daley. "President Clinton probably had one of the biggest brains I've ever known and he was always curious. They're the ones who are always learning. If you can find people like that and get involved, you'll be successful."
Other individuals who have served as guest lecturer at SXU's Graham School of Management in the past have included 47th Speaker of the United States House of Representatives Tim O'Neill and former Secretary of State Henry Kissinger who served under U.S. presidents Richard Nixon and Gerald Ford. SXU is delighted to have hosted Bill Daley and would like to thank him for coming to campus and speaking with its students.
---