SXU Invites You to Spread the Word of We Are SXU Day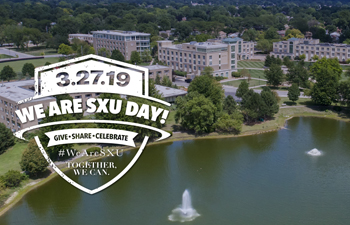 In celebration with Saint Xavier University's annual tradition of Mission Day, SXU's first day of giving -- We Are SXU Day -- will be on March 27, 2019. The University is encouraging the entire campus community, alumni and friends to participate by making a gift, spreading the word and showing their pride.
Alumni participation is solely measured by the number of alumni who give annually, not the size of the gift. The power of any donation, no matter the amount, carries an immense impact by improving the University's participation rates that directly contribute to increasing SXU's rankings for such prominent organizations as U.S. News & World Report.
These rankings help put SXU on the map with prospective students as they look for a high-quality education with leadership and service opportunities that will activate the best in each of them, with top employers seeking to higher the very best candidates and with corporations and foundations considering the alumni giving rate when making funding decisions.
By giving to the Saint Xavier Fund, your generosity can also impact change across the University by providing life-changing scholarships; developing new internship and networking opportunities, as well as organized mission and service trips; and creating new spaces across campus conducive to students' quality education, such as the new Human Performance Lab and STEM Studio.
Beyond supporting We Are SXU Day with a gift, SXU invites all students, faculty, staff, family and neighbors to share their stories. Take to social media and share your memories, pictures and more using #WeAreSXU and #TogetherWeCan when posting. Please check out our Social Media Toolkit for more ways on how to promote We Are SXU Day.
Make sure to stop by the SXU Diner on campus on March 27 between 11 a.m. and 3:30 p.m. and participate in the We Are SXU Day celebration! Music from WXAV, appearance by Champ, selfie station, snacks, games and prizes are included in the festivities. Also that day, following the Mission Day Awards Ceremony, come to Gilhooley's starting at 5 p.m. for the We Are SXU Day Social to gather with members of the campus community.
Visit We Are SXU Day for details or to learn more ways to get involved. Questions? Contact University Advancement at 773-298-3316.
---