/
/
/
SXU's Alex Lambros Named All-American at 2019 NAIA Indoor Championships
SXU's Alex Lambros Named All-American at 2019 NAIA Indoor Championships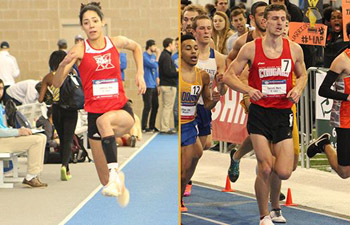 Saint Xavier University's (SXU) senior Alex Lambros of Oak Forest, Ill. set a new SXU Track & Field record and became the program's sixth All-American. She competed as one of two athletes to qualify for the 2019 NAIA Indoor Championships alongside junior distance runner Mario Scarcelli of Joliet.
The All-CCAC honoree and current SXU record-holder Lambros competed in two events, opening the championship meet on Friday, March 1 with the women's long jump where she finished 11th overall with a jump of 5.48 meters, just missing out on All-American status. On Saturday, Lambros returned to action in the women's triple jump, where she won her flight with a mark of 11.62 meters, setting a new SXU program record. This jump placed Lambros 6th by the end of the event, becoming the first SXU student-athlete to be named an All-American in any field event.
Competing on the men's side, Mario Scarcelli made his championship meet debut on Thursday in the 5,000 meter run preliminaries. Scarcelli finished 3rd in his heat, automatically qualifying for the final with a time of 15:01.55, less than half a second shy of the SXU record. On Saturday, Scarcelli placed 10th overall by finishing in the final in a time of 15:17.12.
SXU is incredibly proud of hard work put in by all its students, whatever their passions. Congratulations Lambros and Scarcelli for a great indoor season! The Cougars now prepare for the outdoor season, which begins at the Washington University Distance Carnival in St. Louis on Friday, March 29.
---