SXU Names Corry Irvin New Women's Basketball Head Coach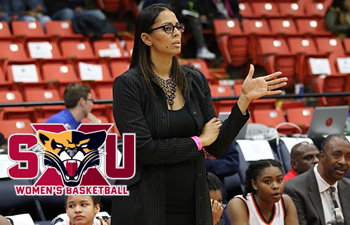 Saint Xavier University (SXU) announced on Wednesday that Corry Irvin will join the SXU Athletics staff as the new head women's basketball coach for the upcoming season. Irvin comes to SXU after leading Whitney Young High School for the past 18 seasons.
Irvin is a three-time NFHS Illinois Coach of the Year in girls' basketball, and has a career record of 449-77 at Whitney Young, where she led the Dolphins to the IHSA state championship in 2008, 2012 and 2014.
"We are thrilled to welcome Corry to Saint Xavier," said SXU President Laurie M. Joyner, Ph.D. "Coach Irvin brings an impressive breadth of knowledge and experience to our women's basketball program, and has demonstrated that she is deeply committed to fostering academic accomplishment, athletic excellence and student success. We look forward to sharing in Corry's winning spirit on our campus."
Irvin previously coached at the collegiate level as an assistant under legendary head coach Doug Bruno at DePaul University from 1999-2001. Irvin was responsible for recruiting for the Blue Demons and oversaw the team's pre-season workout program. DePaul won 18 games in each of the two seasons with Irvin on the bench, before moving on to the head coaching program at Whitney Young.
"I am grateful to Dr. Joyner for the opportunity to join the Saint Xavier family," added Irvin. "Saint Xavier is a tremendous university with a history of women's basketball success. My tenure at Whitney Young and DePaul have provided me with a strong foundation within the Chicago women's basketball community. I am excited to build upon our standard of excellence while continuing to develop strong, compassionate female student-athletes who represent the values of Saint Xavier University."
Irvin will become the second head coach in Saint Xavier women's basketball history, following long-time head coach Bob Hallberg. The Cougars have won 23 Chicagoland Collegiate Athletic Conference regular season and tournament titles since the program's inception in 2000, reaching the NAIA national championship game in 2016 and the NAIA Fab Four in 2017.
---