SXU Gallery Presents the 2019 Senior Thesis Art Exhibitions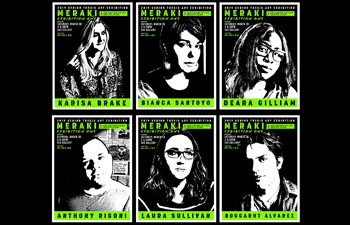 Saint Xavier University (SXU) is delighted to have the SXU Gallery display two senior art and design exhibitions -- entitled Meraki I and Meraki II -- that will showcase the thesis projects of thirteen students.
The first exhibition is on view through April 17 and will feature the work of Bianca Santoyo, Deara Gilliam, Anthony Rigoni, Karisa Brake, Laura Sullivan, Boggarht Alvarez and Kaitlyn Bontrager. The second exhibition will be on display from April 22 through May 7 and will feature the work of Brenda Bueno, James Miller, Joseph Luna, Deandra Stokes, Alma Tovar and Ethan Gray.
All are invited to join in celebrating the year-long visual achievements of these inspiring students by visiting the SXU Gallery and seeing their work firsthand. The SXU Gallery is open Monday, Wednesday and Friday from 10 a.m. to 5 p.m.; Tuesday and Thursday from 11 a.m. to 5 p.m.; and Saturday from 11 a.m. to 2 p.m.
---