SXU Psychology Student Nancy Lesnicki Inducted as Student Laureate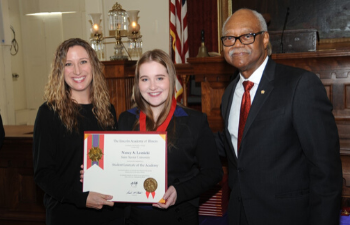 Saint Xavier University (SXU) psychology student Nancy Lesnicki was recently honored by The Lincoln Academy of Illinois during the annual Student Laureate Convocation on Saturday, November 16 at the Old State Capitol State Historic Site in Springfield. Every year, an outstanding senior from each of the state's four-year degree-granting colleges and universities and one student from the community colleges in Illinois is awarded the Abraham Lincoln Civic Engagement Award and thereby becomes a Student Laureate of The Lincoln Academy of Illinois. In the spirit of Lincoln, Student Laureates are honored for their leadership and service and are reflective of the diverse populace of the State of Illinois.
As the president and treasurer of the Polish Student Organization, a Cougar Peer Mentor and Peer Leader, an Arthur J. Schmitt Foundation Leadership Scholar and a Multicultural Advisory Board student member who helped implement best practices for diversity and inclusion on campus, Lesnicki has a long list of titles and has accomplished many goals that are reflective of the Student Laureate mission. "Being a Student Laureate is not solely about recognition; being a Student Laureate invites you to a community of other Student Laureates and Order of Lincoln recipients going back decades. It's exciting that people notice and recognize my on-campus social justice advocacy efforts. The other Student Laureates and I are devoted to bettering the lives of humanity," said Lesnicki.
The SXU psychology department is proud of Lesnicki's accomplishments. "Nancy is one of the department's strongest students with a dedicated history of excellence in service and leadership," said Angela Pirlott, Ph.D., associate professor and director of the Women and Gender Studies Program. "The mission of the Lincoln Academy is to honor individuals who have made outstanding contributions to the betterment of mankind and for overall excellence, so it is truly an honor for Nancy to be Saint Xavier's 2019 Student Laureate."
Lesnicki will intern in Washington D.C. for the spring semester and hopes to become a management consultant with the ability to advise organizations in the implementation of their business strategy in their internal operations. "I want to impact the people within an organization by applying best practices as supported by psychological and sociological research so that individuals feel fulfillment and drive, which will enhance initiatives," said Lesnicki.
To Lesnicki, civic engagement means advocating for equity, inclusion, individuals with developmental disabilities, domestic violence survivors, conservation of the planet and society as a whole. "In order for the fruition of changes one wants to see in the world, one must be willing to initiate and foster that change. We each have the ability to make a positive impact on the lives of others if we guide our empathy toward action."
Lesnicki credits her time at SXU for her accomplishments and plans to continue making a positive impact along with the SXU community. "I am so grateful for each opportunity I have had through my experience at SXU. Students, faculty and staff have served as a support system and have educated me on the critical issues that we must address within and outside of our community. I plan to continue to learn and have a lifelong connection with SXU and the people I have grown with there."
Congratulations to Nancy Lesnicki on being chosen as a Student Laureate!
---