/
/
/
SXU To Offer Master of Science in Medical Sciences Graduate Degree Program
SXU To Offer Master of Science in Medical Sciences Graduate Degree Program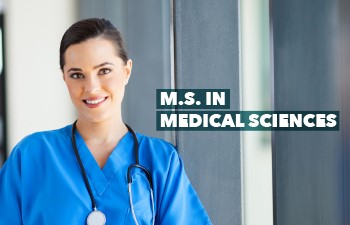 Beginning in fall 2019, Saint Xavier University (SXU) will offer for the first time a Master of Science in Medical Sciences(MSMS) degree program. This innovative program -- which includes courses in anatomy, biochemistry, histology, microbiology, neuroscience, physiology and ethics -- will give students a significant advantage in their continuing medical education or medical career pursuits. Graduates will prepare for the next step in their health care journeys by participating in a tested pedagogy that combines a "flipped classroom", virtual laboratory experiences and a robust data analytics approach to identifying topics and skills where students can best focus their time for personal development.
SXU's MSMS will be presented in partnership with Ponce Health Sciences University (PHSU) in Puerto Rico through Tiber Health Innovation and will be taught by PHSU's medical school faculty and SXU's science faculty. The curriculum mirrors PHSU's Liaison Committee on Medical Education (LCME) accredited medical program and is taught at the medical school pace. This allows students the chance to prepare for the rigors of medical school while also enhancing their chances for admission. A dedicated classroom space gives MSMS students a place to develop a sense of community and to support each other as they travel this leg of their professional journey together.
As an added benefit, the top 20 percent of graduates of the SXU MSMS program -- based on their grade-point average in the MSMS program, most recent MCAT score, and who adhere to PHSU admissions requirements for medical school application -- will be granted interviews at PHSU School of Medicine should they apply to Ponce Health Sciences University.
SXU's MSMS program will be offered at the University's campus starting fall 2019 and requires applicants to hold a bachelor's degree. The program will help students to achieve the following:
Enhance the possibility of being accepted into a medical, veterinary, dental or optometry school program by demonstrating added competence in the required sciences.
Supplement their undergraduate records with enhanced science preparation in order to pursue careers in academia, research or in the biotechnical or pharmaceutical industries.
Application information can be found on the SXU website. Admission for fall 2019 is open and applicants will be admitted on a rolling basis.
For more information about the MSMS program, please contact the Office of Graduate Admission at 773-298-3053 or graduateadmissionFREESXU. For media inquiries, contact SXU's Office of Media Relations at newsroomFREESXU.
---