We Are SXU Day is Here!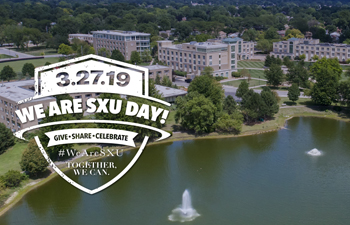 In celebration with the annual tradition of Mission Day, Saint Xavier University's (SXU) first day of giving -- We Are SXU Day -- is here! It is a 24-hour participation-driven effort, celebrating 173 years of providing a quality Mercy education and dedicated service to its community of deserving and talented students! SXU is encouraging its entire campus community, alumni and friends to participate by providing support, spreading the word and showing their pride. Please check out the Social Media Toolkit for details on how to promote We Are SXU Day and help share your stories.
Make sure to stop by the SXU Diner today between 11 a.m. and 3:30 p.m. and participate in the We Are SXU Day celebration! Music from WXAV, an appearance by Champ, selfie station, snacks, games and prizes will be included in the festivities. And come out for an evening of fun at Gilhooley's for the We Are SXU Day Social, starting at 5 p.m.
For more information, visit the We Are SXU Day web page. For questions, contact University Advancement at 773-298-3316.
---