/
/
/
Congratulations to the President's Faculty and Staff Excellence Awards Recipients
Congratulations to the President's Faculty and Staff Excellence Awards Recipients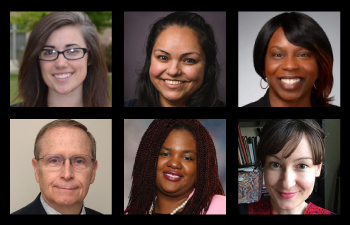 The inaugural recipients of the President's Staff Excellence Award and the President's Award for Faculty Excellence at Saint Xavier University (SXU) were announced November 10, and the campus community comes together to applaud them on these prestigious honors.
Newly launched this year, the awards were initiated as a natural progression of SXU's service excellence philosophy, made possible because of the upward trajectory of SXU. The awards are designed to showcase true excellence among SXU's faculty and staff community, and because of the community's shared sacrifice and sense of sustainability over the past few years, the University is able to reward those who live the mission daily and serve the entire SXU community in a distinct way.
Nearly 75 staff and faculty colleagues were nominated for recognition, and with such a deep pool of excellence among faculty and staff, the inaugural groups were larger than anticipated. This term, six remarkable community members were recognized, but moving forward, one faculty member and one staff member will be honored each semester.
Staff recipients were chosen based on their dedication to mission, service and excellence in their daily work. These individuals strive for continuous improvement for the benefit of others, and they inspire others to perform at a higher level. The selection committee, comprised of Janet Brady (CAS), Melissa Butler (Counseling), Laura Kurzeja (Athletics) and Cathy Martinez (Business and Finance), engaged in a blind and comprehensive review of nominees.
The inaugural recipients of the President's Staff Excellence Awards are:
Elena Carrillo (Records and Registration) – Elena, an SXU alumna, was nominated for her strong work ethic and willingness to put others before herself, and nominators described her as "mission-focused, super-diligent, highly competent, kind, courteous, dependable and always willing to go the extra mile."
Ali Zaharris (Campus Life) – Nominators praised Ali for her dedication, dependability and exceptional problem-solving skills, with one nominator noting, "If you're giving 100% then she's giving 120%...but she does it with such ease and grace."
Lisa Lyons (Center for SUCCESS) – Lisa, a true mentor and leader among students, was nominated for her work ethic, creative thinking and desire to celebrate the SXU community and brighten the future of the University.
"I am honored and humbled to receive this award. I am incredibly grateful to students and colleagues for nominating me! This reaffirms why I enjoy working here at SXU; it is our close and compassionate community that keeps me inspired and energized to work as hard as I can to create a vibrant campus life," said Zaharris.
"I am blessed and honored to be a recipient of this award. Receiving this award is like seeing the fruits of your labor. I am grateful to work with some amazing colleagues and students that make the journey even better to travel. It's those colleagues and students who have witnessed my work and labor firsthand. My colleagues are walking through the trenches with me and trying to turn this time of uncertainty into positivity," said Lyons.
The President's Award for Faculty Excellence stemmed from a proposal put forth by Pillar 4 of the Strategic Planning Action Committee (SPAC). Nominees' philosophy of teaching, recent scholarship, service contributions and student mentoring were assessed by the selection committee, comprised of Amy Fry, RN, MSN (Nursing and Health Sciences), Monzurul Hoque, Ph.D. (Finance) and Shawn Salmon, D.A. (Music).
The inaugural recipients of the President's Award for Faculty Excellence are:
Tracy Crump, Ph.D. (Sociology, Anthropology and Criminal Justice) -- Tracy's work is student-centered, and her high-impact educational practices and work with the Emerging Scholars program contribute positively to the culture of the University.
Troy Martin, Ph.D. (Philosophy, Religious Studies and Theology) – Troy excels in his commitment to educate students for competence and character and the care and attention he brings to teaching along with his extraordinary accomplishments in scholarship represent the ideal teacher-scholar.
Chris Fojtik, Ph.D. (History and Political Science) – Chris builds authentic relationships and community among students, and her strong year of scholarly contributions and significant advising, mentoring and service commitments demonstrate the strength of the extraordinary faculty at SXU.
"I am honored to receive this award and to have my teaching, service and scholarship at SXU over the past 30 years recognized. My teaching informs and directs my scholarship, and my scholarship in turn informs and enriches my teaching. My students and colleagues have made this award possible, and I am grateful for their enormous contributions to my life and work," said Martin.
Recipients earned a one-time cash award of $2,500 and will be recognized via a video presentation at an upcoming Board of Trustees meeting. Recipients will also be invited to a luncheon with the Board of Trustees post-COVID. These outstanding individuals have gone the extra mile to advance the strategic priorities of the University and truly make it an incredible place to grow and learn.
"I am pleased that our community fully embraced this opportunity to recognize and reward faculty and staff members who go the extra mile for their students and colleagues. We are blessed to have such dedicated community members who strive for excellence in everything they do. These individuals inspire us all to do better, and they are guiding the way as SXU becomes even more mission-focused and student-centered," said President Laurie M. Joyner, Ph.D.
---