Legacy Father and Son Attend SXU Together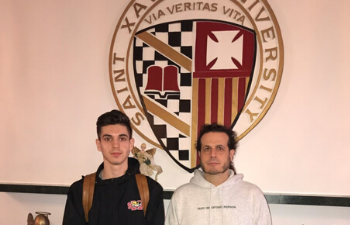 Saint Xavier University (SXU) student Joel Redman's connection to SXU is truly a family affair. Joel's mother, Jeanne Redman, '92, '95, graduated with an undergraduate nursing degree and a master's of science in nursing, and his sister, Alexandra Didomizio '05, studied biology secondary education. Now, Joel has returned to SXU to study psychology and art at the same time his son, Joel Redman Chavoyo, will attend and study chemistry. The legacy is meaningful to the entire family. "We wanted to keep the tradition going," said Redman.
Redman started at SXU in 2004 but only made it through one semester. Going through a rough time in his life, he had to put school on the back burner. Eventually, he earned an associate degree in art in 2015. As Redman was helping his son through the SXU admission process, he couldn't shake the feeling that his own education was incomplete. His son had been bugging him to go back to school, and he realized SXU was the perfect place to help him fulfill the core values of learning for life, service and compassion.
Redman's dream is to become an art therapist after graduation. What he's learning in both his psychology and art programs is helping him theorize his future practice. Having battled depression himself, he spent a lot of time painting and sculpting, and as he watched his own mental health progress, he dreamed of what it may be like to help others through the same process. "Art became a reflection of my own mental health," said Redman.
Redman and his son are excited to be at SXU together, and they plan to offer each other moral support and understanding as they navigate the campus and classes together. "We're like a team," said Redman. One of Redman's favorite SXU memories is taking his toddler son to Lake Marion to look for turtles. At the time, Redman had no idea that over a decade later, he and his son would both be students of the University at the same time. "I feel lucky to be able to attend the same college at the same time as my father. Not many people can say that," said Redman Chavoyo.
After Redman graduates, he plans to gain some experience working in clinical settings and then move to Guadalajara, Mexico to open his own practice. Redman's mission is to bring more joy and happiness to the world, and he anticipates serving a broad demographic. His own experiences in art therapy changed the course of his career path, and he can't wait to change others' lives for the better through art.
"We may not realize it, but we use art all the time to make ourselves feel better, whether it's going to a movie or listening to music. Immersing yourself in these things affects us in more ways than we're conscious of. When we utilize different forms of art and exercise our minds creatively, we begin a therapeutic process that can change the course of our self-perception and emotions," said Redman.
Redman hopes that his return to school is an inspiration for others who are contemplating going back. The SXU Transfer Student Services Center makes it a seamless process for returning adults, offering the guidance and service needed to ensure a successful transition. "Joel's story is one of perseverance and determination. The transfer team is excited to see where this new journey at SXU takes him and we look forward to continuing to offer support and guidance along the way," said Jodi O'Toole, assistant director of Transfer Student Services.
SXU is proud to watch Redman work to make his mission of service and compassion a reality.
---