Saint Xavier Academy Grads Form Lifelong Friendship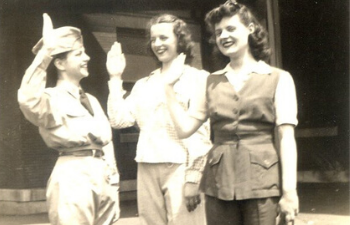 An extraordinary, lifelong friendship was born out of Saint Xavier Academy during the Great Depression. Saint Xavier University's (SXU) origins as a female academy in 1846 is where the late Betty Connelly Stiles would meet the late Marjorie Scholz Christoph in a sixth-grade classroom in 1931.
Marjorie and Betty would remain friends well after they graduated from the Academy. Marjorie, who had a history of ballet training, would attend Mercy High School, and during college, she accepted an opportunity to be part of a dance troupe that would perform at county fairs throughout the Midwest. Though Betty didn't have the kind of ballet training Marjorie had, she was a quick study, and the two got to spend two summers traveling together with their show. They would be part of each other's bridal parties, godmothers to each other's children and often would spend vacation time together with their families.
Though the two remained close, they lived in different states and each had unique and individual lives. Marjorie went on to attend the Chicago Teacher's College and then study home economics journalism at the University of Wisconsin. After moving to a dairy farm in Chilton, Wisconsin with her husband, she would eventually write, edit and publish a magazine called "The Homestead Line," a publication about the line of Holsteins the farm specialized in. She was president of the Woman's Club and Mary Jane Homemakers Club, and she also had a leadership role in creating Calumet Memorial Hospital. She convinced her father-in-law to donate the land, sought donations for its construction and served on its board of directors. After the family moved to Arizona, she served on the Board of Directors of Arizona Dairymen. She'd also take on roles as a merchandising customer representative and staff member for the county health department, and she pursued many interests such as the World Affairs Council, art consulting and horseback riding.
Marjorie's daughter, Ann Christoph, encourages current SXU students to live by the advice her mother gave her growing up. "She encouraged me to be brave and to be persistent. She reminded me that rather than taking the easier way, you should not divert from your ultimate goals and aim for what will help you get you where you want to go."
Marjorie passed away in 2008, but memories of her and her friendship with Betty would live on. Ann Christoph recognized how special their relationship was and considered Betty to be her "fairy godmother," fondly reminiscing on the fun moments they all shared together and Betty's ability to tell comedic stories and make any ordinary moment fun.
Betty was particularly fond of the Sisters of Mercy, who she credited for saving her from tough situations multiple times. During her time at the Academy, her father was a jeweler who was struggling with income due to the Great Depression. He made the difficult choice to pull her out of the Academy since they could no longer afford it, but the Sisters of Mercy kept Betty in school, demonstrating their longstanding dedication to caring for the underserved. Later, when Betty experienced financial constraints as a single parent, the Sisters of Mercy helped her to get a teaching job at Mother McAuley Liberal Arts High School, where she taught French.
Sister of Mercy Ann Flanagan, R.S.M., a now retired Saint Xavier gift officer, recalls the ways the Sisters of Mercy aided Betty during her journey. "Sister Josetta encouraged Betty to further her education and get a degree that would broaden the spectrum of what she did." Flanagan and Betty, who met at Saint Xavier, remained good friends for years.
Betty would earn a master's degree while teaching full-time at Mother McAuley and raising three children alone. Betty's daughter, Patty Stiles, believes that the critical value Betty placed on education was influenced by her time at Saint Xavier. "Her love for Saint Xavier was deep. I truly think she was Saint Xavier's biggest fan ever!" said Patty Stiles. "I believe she'd advise current SXU students to really value education, and to focus on their studies and faith."
Betty would eventually leave Mother McAuley to work as a guidance counselor and teacher at Oak Lawn Community High School. Betty remained dedicated to the southwest community and went on to join staff at Moraine Valley Community College when they opened in 1967. By the time she retired, she was a dean.
After retiring, Betty continued to be engaged in the things happening at Saint Xavier and would attend many events on campus and keep up with all the news to ensure the institution and its mission continued to be integrated in her life.
"I'd invite her to all the things we had going on at Saint Xavier, and it was fun and interesting to spend time with her. She was a wonderful woman. I loved her. She was committed to her family, to education and to living and enjoying her life," said Flanagan.
Betty, who recently passed away in May at nearly 99 years of age, is remembered for her big personality, ability to make the people around her laugh and fierce perseverance. "My mother was such a strong woman. She lived through the Great Depression, World War II and the COVID-19 pandemic," said Patty Stiles.
In addition to the special relationship Marjorie and Betty forged, they also were part of a cohesive group of dear friends from Saint Xavier Academy who also shared a special bond with Saint Xavier, including Betty's sister, Barbara Connelly Simmons, and Sister of Mercy Betty Barrett, who would become a Saint Xavier president from 1963 to 1968, highlighting the ways Saint Xavier truly becomes a home for its graduates.
Marjorie and Betty's enduring and powerful friendship is illustrative of the close, welcoming community found at Saint Xavier, and their legacy will continue to live on in the many new friendships that will grow in future years. "Throughout their lives, Saint Xavier stayed close to their heart," said Patty Stiles.
---