SXU Alum Excels in Niche Field of Oculoplastics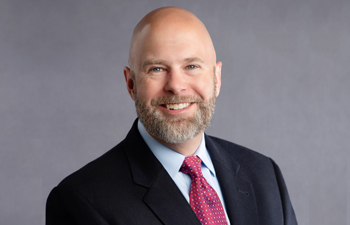 Saint Xavier University (SXU) alum Michael Boyle '98, M.D., has recently become partner of an oculoplastics practice in Baltimore. As a board-certified ophthalmologist, Boyle restores confidence in patients by performing both cosmetic eyelid surgery and reconstructive eyelid surgery for patients with medical problems that affect their eyes, including thyroid eye disease, orbital tumors and more.
After graduating from SXU, Boyle continued his schooling for ten more years. He went on to get a medical degree from the University of Chicago followed by an ophthalmology residency at Indiana University. After finishing his residency, he completed an oculoplastic and orbital reconstructive surgery fellowship at the University of Alabama Birmingham. Boyle is a fellow of the American Society of Ophthalmic Plastic and Reconstructive Surgery.
In 2008, Boyle began work at Grand Rapids Ophthalmology and became a partner within a large multi-specialty private practice ophthalmology group. There, he headed the oculoplastic division of the practice and acted as the medical director of their skin care business. He was also an associate professor of ophthalmology at Michigan State University. As of October 7, Boyle resigned from the Michigan practice and relocated to Baltimore, where he will join an old friend from residency as partner in an oculoplastics practice.
"As my old practice became an equity-based practice, I realized that I enjoyed being part of a physician-run private practice more. Fortunately, an old friend from residency, whom I have known for 18 years, was looking for a partner," said Boyle.
As an ocular plastic surgeon, Boyle specializes in plastic and reconstructive surgery around the eye, so though he is an ophthalmologist, his work centers on everything but the eye. His work is divided into functional and cosmetic work, with functional work helping to improve the function, health and welfare of the eye and adjacent structures. Cosmetic surgery involves improving the appearance of an already normal eye area.
"In a way, these two things go hand-in-hand. Functional patients want things to look as good as possible, and the primary goal even for cosmetic patients is to make sure we don't compromise the way things function," said Boyle.
Boyle finds that many people, even medical students, are surprised that a field like this exists. "It's a relatively niche specialty, and there are not a large number of us out there. However, it's very important. Patients benefit from a doctor who is capable of evaluating and protecting the eye during these surgeries. My first priority is the patient's eye health and vision," said Boyle.
Boyle does reconstruction from trauma or cancers, which involves creating a new eyelid for a patient by borrowing tissue from areas of the face or adjacent lids. He also does orbital surgery, which includes bony decompressions of the facial skeleton for thyroid eye disease, removal of tumors around or behind the eye and repair of facial fractures involving the bony orbit, as well as lacrimal surgery (treatment of watery eye or infection) and anophthalmic socket work (removing diseased or painful eyes and reconstructing the area afterwards).
One of Boyle's favorite things about his time at SXU was that he met his wife, Jennifer Peterson '98. They've been married for 19 years and have three children. Boyle was president of the Tri-Beta Biological Honor Society and conducted lots of research during his time at SXU, including research on garter snakes.
"The education I received at SXU was well-rounded and broad. The teaching was excellent. I felt well-prepared for medical school. The biology program was a good foundation for the educational demands that followed," said Boyle. "I enjoyed my time there and felt that the University took good care of me and helped me get where I am today."
Boyle counts Randolph Khromer, Ph.D., professor of biology, among his favorite mentors at SXU. "If one person were to stick out in my memory, it would be Dr. Randy Khromer. I did my research with him, and I went on several poster presentations with him. He really went out of his way to be a mentor to the undergrads," said Boyle.
"In my 29 years at SXU, I've taught many remarkable students. However, Mike proved to be exceptional and was more than just dedicated to the classroom. He participated in many campus-wide events and served as president of Tri Beta," said Khromer. "He conducted student-faculty research as a member of my research lab and his project would have qualified as a graduate-level research project, which required him to develop new techniques to collect his data. He presented at several national research conferences and his research on seasonal aromatase activity in the brain of the male red-sided garter snake was published in the professional journal Hormones and Behavior."
Boyle advises current SXU students interested in the field of eye care to know that there are plenty of career opportunities, ranging from direct clinical care like ophthalmology, optometry and nursing to basic science and research, like biology and optics, as well as fabrication of prosthetic eyes and the business of eye care. He also notes that oculoplastics broadens the scope of practice, is filled with variety and intellectual change and requires an understanding of fairly complex surgical anatomy and disease processes.
"I went into medical school thinking I'd go into primary care, but I didn't feel like I had the patience to follow diseases for decades. I liked the instant gratification of surgery and the technical aspect of fixing problems with my hands. Nothing in medicine [at least for me] compared to learning those skills," said Boyle. "My parting advice to students would be to not be afraid to change course and go where life takes you."
---