SXU Alum Named WGN Teacher of the Month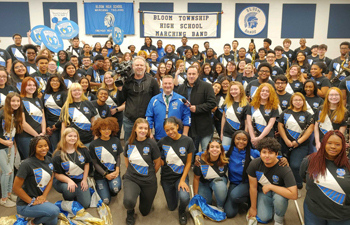 Saint Xavier University (SXU) alum Michael Bielecki '06, '17 has been named the November Teacher of the Month by WGN-TV. Nominated by his students, Bielecki was chosen based on his educational achievements in the classroom, community contributions and innovativeness of his teaching strategies.
Bielecki has been a full-time music teacher for nine years. He began his work at Eisenhower High School as assistant marching band director and then moved on to join Bloom Township High School District 206 as director of band in 2016. As director, he hoped to develop a stronger sense of belonging for the students and for the band to have a greater presence within the school community.
During his time at Bloom Township, the band program has grown by 105%. Within the last two years, his students have performed at the Chicago Thanksgiving parade, two Southside Irish parades and were accepted to perform at Disney World's Magic Kingdom. He also played a role in adding advanced placement (AP) music theory classes to the curriculum and has begun a new storytelling program where students share cultural folk tales through their music, with the folk tales being directly related to students' various cultures. Program growth, higher profile student performances and increased investment from the community are only some of the things Bielecki has achieved, exemplifying his designation as Teacher of the Month.
"The recognition from WGN was a very humbling experience because you have to be nominated by your students. The student nomination was so sincere, genuine and articulate. I am proud to say that I'm her teacher, but also that she recognized the values I try to instill in my students beyond just being good musicians," said Bielecki. "We work on being good people and having a welcoming environment."
Bielecki began his career at SXU as a music education major, but he later switched to saxophone performance, as he felt that he needed to become a better musician before he could become a teacher. Before he began teaching in schools, he taught students blues and jazz at a private studio and realized that he felt most rewarded when he was working with students. With some help from his wife, he realized teaching was his calling.
"My teaching philosophy is that the student comes first, especially in band, where your academic prowess is in many ways an extension of you. It's a very personal experience and can be challenging to put yourself out in front of an audience. As a director, I establish trust. My belief is that if I can establish a sense of trust and community but also a sense of student autonomy where they know they are a part of a group, that is a recipe for success," said Bielecki.
Bielecki feels that his time at SXU prepared him well for his teaching journey. "There are two different layers to my preparation. As an undergraduate, I had the opportunity to grow as an individual musically, academically and socially. As a graduate student, I had the opportunity to refine raw understanding of education and fine-tune my experiences and skill set to make it applicable to the classroom. I am the teacher that I am because of my experiences at Saint Xavier," said Bielecki.
During his time at Saint Xavier, Bielecki spent most of his time in the music practice room, but he was also a guest at WXAV, SXU's radio station, and he was a member of the National Association for Music Education. He continues to stay connected to Saint Xavier by assisting with SXU's annual jazz camp.
"You have professors like Shawn Salmon and Tom McNichols, who are incredibly good at reaching out into the music education community and advocating for SXU. They are very welcoming to students and are so dedicated to serving the community. Their work makes me feel very proud to be an alum," said Bielecki.
Bielecki's favorite part about attending SXU was that it provided him the opportunity to grow, both in musicality and maturity. He raves about the professors in the Music Department, who allowed the appropriate space and time for his growth to happen. "Every professor I interacted with contributed to shaping who I am as an educator and a musician. Professor Lara Regan provided an unwavering belief in my ability to succeed."
"Mike was one of my first students when I returned to SXU as an instructor," said Regan. "His passion and enthusiasm for life and music was apparent from the first day I met him. He has always been that person that you could count on to go the extra mile and bring everyone along with him. He has such a big heart and anyone who meets him can feel the sincerity of his generosity and compassion for others. I am so proud of all he has accomplished and all that he continues to inspire in his students!"
Bielecki encourages current SXU music students to diversify their perspectives on music as much as possible. "Your passion for music is what will be the main driving force in your success as an educator. Reach out to SXU alumni for help, observation and guidance."
Bielecki feels he is at a great place in life and plans to continue being a good influence on his students, contributing positively to the world of music education and giving back to SXU's Music Department. He would love to see a performing arts center built at SXU to help bring the community together.
---