SXU Alum Nominated for Grammy Music Educator Award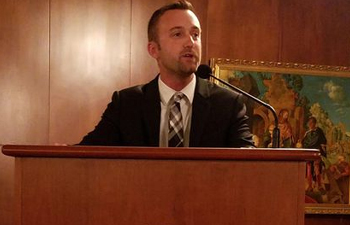 Saint Xavier University (SXU) alum Justin Antos '08, Ph.D., has been nominated for the Grammy Music Educator Award. Currently the band director at Dwight D. Eisenhower High School in Blue Island, Antos is one of only 25 teachers in the nation to become a semi-finalist. Antos has also been named Blue Island Man of the Year in 2015 and is the 2017 recipient of Saint Xavier's George K. McGuire School of Education Distinguished Alumni Award.
"This nomination is very special to me. It's an honor and a privilege to represent the students who nominated me and the community that has shown me so much love and encouragement throughout my career," said Antos. "Grammy or not, this entire experience has been incredibly rewarding and something I will always cherish."
The path that led Antos to this nomination was a long and challenging one, but he has acquired a collection of accolades along the way, and his dedication to his craft has proven him a favorite instructor among students. After graduating from Saint Xavier in 2008, Antos began a long, dedicated educational journey. He went on to study at Boston University, where he earned a master's degree in music education, and at Central Michigan University, where he earned a master's degree in instrumental conducting. He also earned a master's degree in education from Olivet Nazarene University. Finally, from 2014 to 2017, he attended Auburn University, where he earned an educational specialist degree and completed a Doctor of Philosophy in music education. During most of this 14-year educational journey, Antos was also a full-time educator.
"While I was preparing lessons and building a music program, I was also traveling the country. I was leaving home for extended periods of time to live in dorms and using my accrued sick time to fly to campus to attend class, present papers and complete exams, yet still had to be 100% committed to my own students so their educational experiences would not be compromised. These years were grueling and draining, but I would not change a single thing. I've been blessed with an incredible career," said Antos.
Antos currently teaches at Dwight D. Eisenhower High School and is also an adjunct professor of music at Trinity Christian College. At the high school, Antos directs three curricular bands and two curricular orchestras. He also conducts multiple other bands and orchestras throughout the school, facilitating over 15 different chamber ensembles. Part of his work also includes staying current with trends in music and education so he can ensure his approach to teaching is rooted in best practice.
Antos's favorite thing about teaching is that his role as a musician and educator is constantly evolving and that he gets the opportunity to work closely with many talented musicians from hard-working families to build relationships that influence his curricular goals, repertoire selection, pedagogy and advocacy efforts.
Antos believes that music is a critical component of his life because it allows him to be human and gives him an avenue to communicate what could be better conveyed without words. "Music reminds us all where we have been and illuminates where we might go, opening our minds and allowing us to connect on a deeper, more spiritual level," said Antos. "There is no better place for music than in schools. Music develops the whole child and is paramount in helping students determine their identities, improve their social and emotional health and engage in some of the greatest contributions that humankind has ever created."
Antos believes the essence of who he is as a musician and educator was cultivated at SXU, praising the outstanding faculty from the Music Department in preparing him for his career in teaching and academic journey. "They provided a safety net for me so that I could experience what it felt like to get outside of my comfort zone and push myself artistically and academically. The SXU Music Department was small but ripe with extraordinary talent. Being a part of that family laid the foundation for me to become the artist and educator I am today," said Antos.
Antos counts Greg Coutts, Ph.D.; Erik Janners, DMA; Martha Morris; and Patricia Lee among his favorite mentors, believing that each one of them taught in a unique and encouraging way and contributed to his success. "I have so many great things to say about every professor from the Music Department, who are all incredibly gifted and true experts in their field. The faculty at SXU were, and are to this day, the best that you will find anywhere."
"We are so very proud of Dr. Antos's accomplishments and are very pleased to hear that he is again being recognized for his outstanding achievements in music education," said Coutts.
Antos encourages current SXU music students to treat every musical experience as if it is their career path and condition themselves to be fully invested in the moment as they work to master their craft. "I cannot think of a job that is more rewarding than performing and discussing music all day with people who genuinely share a love for this art," said Antos.
As Antos looks to the future, despite his already impressive resume of education, he hopes to return to school yet again. He would also like to publish a book at some point in his career. For now, he will continue to serve his students and community to the best of his ability and challenge himself to be better every day.
To help Antos spread the word about his nomination, create a post on social media about Justin Antos's impact as an educator using the hashtag #AntosForGrammy and tag @GRAMMYMuseum and @RecordingAcad.
---