SXU Alumna Creates Platform to Help Black Businesses Succeed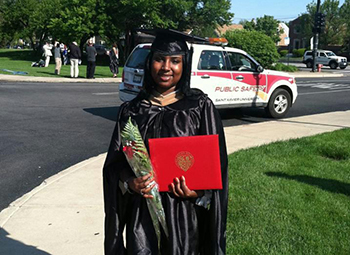 Saint Xavier University (SXU) alumna Danielle McGee '12 is taking the business world by storm and making a positive community impact with her multi-service digital marketing hub, Black Business Boom. Black Business Boom serves as a strategic marketing system that provides cost-effective tools and services to Black business owners to help them be successful and ensure that business is maintained, retained and consistently growing.
McGee graduated from SXU with an MBA in health administration and has been working in the managed health care space for 7 years. Currently a project engagement executive for Humana, McGee oversees and directs provider operations. Though she has enjoyed her time in managed health care, McGee anticipates eventually committing all of her attention to her entrepreneurial pursuits, and she has worked on several ventures since she left Saint Xavier. Her brick-and-mortar spa has been open for nearly five years, and Black Business Boom has been going strong since 2018.
McGee started Black Business Boom after she took a job transfer that brought her to Nashville. The idea originally came to her from having frequent conversations with entrepreneurs and realizing that many of them went through the same difficulties she did when starting her spa business. "I saw the need for a platform to help Black businesses be successful. I became hyper-focused on bridging the digital divide for Black-owned businesses and helping them to use digital marketing tools and educational resources," said McGee.
Originally, she aimed to create a Groupon-style coupon platform for Black-owned businesses, but as she built the business, she realized how critical technology support and resources would be to help these businesses succeed. Operating as a one-woman team for most of the last two years, McGee had to put lots of research and planning into how she could make the business happen. "I'm not a techie at all, so getting the website and the app launched took a lot of work. It takes time to make what I envisioned it to be, especially since I do not have a background in technology or coding. It's been a challenge, but two years ago, I never imagined I could build an app, and now I'm able to lead the charge to make things easy for Black business owners," McGee sad.
McGee believes that her time at SXU has helped her tremendously. While the health administration certificate prepared her for all of her responsibilities in the managed health care space, she always credits SXU for helping her to think strategically, which helps her with Black Business Boom. She believes the courses she took taught her the financial principles she needed to start her business and go out to raise capital. "SXU taught me how to think differently about everything and how to problem-solve, how to use time management and how to manage a career while doing other things. Problem-solving is part of my everyday life, and what I feel I took away the most was being able to think my way out of a problem," said McGee.
Diversity was one of McGee's favorite things about SXU. "I really enjoyed the entire experience of being there and interacting with people. It was such a great experience to learn from different people. I went to a predominantly Black high school and a historically Black college [for her undergraduate studies], so it was my first time in a learning environment that was diverse, and I enjoyed getting to engage with different people with different backgrounds," McGee said.
When it comes to supporting Black-owned businesses, McGee encourages those who are in the position to support the true growth of business to do so. "We're looking for businesses that are looking to sponsor Black-owned businesses on our platform. We're able to give them the tools they need to be successful, but they often don't have the capital to invest in the programs we're offering," McGee said.
Many Black-owned businesses are affected by and struggling because of the COVID-19 pandemic. "With the onset of COVID-19, we realized things are much deeper for Black-owned businesses because they weren't easily able to transition to digital or virtual spaces and didn't have apps or the ability to order online," said McGee, who believes the pandemic creates an opportunity for businesses to realize their weaknesses and put plans in place to ensure they aren't impacted by a future crisis. She advises that businesses create contingency plans, prepare a digital strategy in the event a brick-and-mortar business must transition online and ensure strong operations are in place.
When asked what advice she has for current students who are interested in starting their own businesses, McGee encouraged finding a balance between planning and execution. She believes planning is important for any business, but that it's important to be prepared to pivot if the business model doesn't work. "You have to be open to changing the idea of what you thought your business is going to be, which is hard for a lot of folks, including myself. I was all about the coupons and now I want to focus more on the things I'm doing for the community. There's a bigger mission here," said McGee.
As McGee looks to the future, her immediate goal is to be able to say she's helped bridge the digital divide for at least 1,000 Black-owned businesses and help them increase their profitability. She aims to work one-on-one with business owners and help them realize Black Business Boom has access to the things they need to make their business successful. She also plans to travel the world and live abroad, hopefully in Amsterdam.
McGee wants the SXU community to know that her work is important and that it takes everyone to pitch in in different ways. "The work I'm doing for Black-owned businesses impacts communities that are being affected by the racial inequalities in this country. Whether buying from Black Business Boom or black businesses directly, you're doing your part to fight racial inequality."
To support the mission of Black Business Boom, visit their website or contact info@blackbusinessboom.com.
---