SXU Alumna Eileen Simak Leaves Amazing Public Health Legacy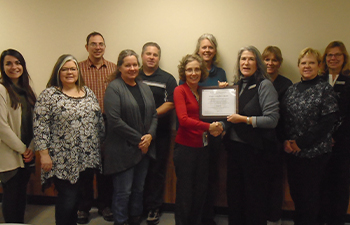 Saint Xavier University (SXU) nursing alumna Eileen Simak '86 changed the world of public health for her community in Hayward, Wis. The late Simak had a history of fighting hard for her community, acting as a powerhouse against government figures to ensure positive and necessary change on public health issues. Most notably, throughout her life and within her 41-year-nursing career, Simak consistently demonstrated the Saint Xavier core values of service, hospitality and compassion.
While attending Saint Xavier, Simak also worked full-time at Advocate Christ Medical Center, where she worked as head nurse of the intensive care unit and staff nurse in the surgical open heart unit. Once Simak's first daughter was born, she stayed home but decided to work part-time to continue to be able to do what she loved most – nursing. Initially, she worked in an outpatient arthritis center, but she was scolded by a doctor who told her she belonged in a more challenging unit where her talents could shine. Soon, Simak would leave Chicago and head to Hayward, and after a stint running a seasonal restaurant, Simak's talents would return to nursing.
Simak began working as an obstetrics nurse and was involved in lactation education. After doing that for many years, she took a position with the Sawyer County Health Department as a public heath nurse, and she eventually rose in status to become the public health officer. Though intimidated at first, she quickly assimilated and started taking charge to better the Hayward community.
Much like Saint Xavier, Simak was dedicated to caring for the underserved, and she led many battles to fight for those without resources and ensure the health and safety of her community. One she was most proud of was fighting to keep fluoride in the water when the city decided to remove it. As a natural mineral, fluoride is a safe and effective way to prevent tooth decay. Simak spoke before the city council to explain the negative impact the decision would have on the community. Not only did her argument encourage the city to rescind their action, but she also presented them with a grant opportunity she had found on her own to pay for it.
One of many other examples of Simak's dedication to her community includes the Hayward whooping cough outbreak. Babies cannot be vaccinated against whooping cough at birth, which leaves them unprotected for the first few months of life, leaving them at greater risk for catching whooping cough and potentially having severe complications from it. During this time, Simak would often work 12-hour days and then come home to get on the phone or computer to make sure she was contacting sick people and telling them to stay home. She was so involved that when she heard a local radio station running a PSA on whooping cough, she called them up and was interviewed at the station within 20 minutes.
"That was Eileen, always helping everyone she could. It was never about publicity or bringing attention to herself. She went above and beyond to protect the people of the community," said Simak's husband, Richard Simak, who mentions that Simak's extra work was never done for money, but because she loved helping people. "She was a problem-solver, and would do whatever she needed to do to address and fix any health issue facing the county."
In addition to battles for fluoride and whooping cough, Simak also advocated for education for and public awareness of drug prevention, birth control, vaping in schools, human trafficking, financial literacy, life skills, social and mental health, flu vaccinations and more, all in addition to assisting with the county's transition as an agent of state and continuing to teach classes at the hospital. She would also meet with many community leaders, including Wisconsin's governor, to advocate for pressing issues within her community.
Simak also worked to bridge the gap between Hayward's tribal government and the health department, assisting with grant writing and other efforts, and she became a very respected figure. "Anytime we'd be in town, someone would come up to us to thank her for something she did for them," said Richard Simak. Simak was quite loved and celebrated in her community.
Richard Simak has fond memories of bringing Simak lunch while she was studying for her undergraduate nursing degree at Saint Xavier. "It's a story she would always tell everyone," recalled Richard Simak, who also stated that Simak kept up with many of the friendships she had acquired at Saint Xavier.
Simak was also a great influence to other nurses and nursing students, and the motivation behind many decisions to enter the nursing field. Richard Simak calls his late wife an inspiration: "You should never let anything discourage you, and you should explore the many aspects of nursing to find your passion. Like Eileen, you can lead by example by caring passionately and fighting the good fight."
Richard Simak believes that if Simak were here today as a public health officer, she would have made a tremendous impact for handling COVID-19. "People would have listened to her suggestions about wearing masks and staying home," said Richard Simak. "She built the relations necessary to influence, and she had a talent for quickly earning respect after presenting her case, so I expect things would be different with her leadership."
Simak's passing was incredibly unexpected and devastating for her family, who always considered her a superwoman. Still, their pride in the impact she had on her community and legacy of inspiration and positive change she leaves behind is tremendous. In remembering her, Richard Simak said, "Eileen's the nurse that Saint Xavier graduated into the world, one that completely embodied the University's core values, really charmed this whole community and made the world a better place."
---