SXU Alumna Faye Gary '66 Makes Remarkable Strides for Mental Health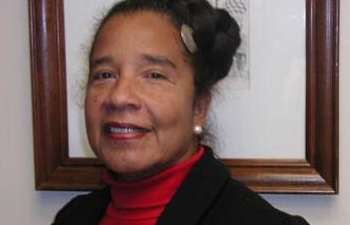 Saint Xavier University (SXU) alumna Faye Gary '66, Ed.D., RN, FAAN, has led an incredible journey of hardship, perseverance and triumph. SXU honors Gary, an esteemed and incredibly accomplished alumna. She was a student of Saint Xavier's first graduate degree program in psychiatric nursing. She was the first in her class to graduate, the first to get research published and the first to present research and clinical data at a national scientific conference. Despite her many achievements, Gary would endure many obstacles along the way.
Raised in the Jim Crow South, segregation was the only reality that Gary knew. "I came from a community where, if you spoke out of turn, people would destroy your property, cut your fence, steal your livestock, terminate your employment, all kinds of insults -- some people even lost their lives. Yet I knew at a very embryonic level, there had to be seeds of decency in all people." As a nursing undergraduate, Gary had attended Florida A&M University, a historically black university in Tallahassee. Segregation laws thwarted Gary's ability to attend other southern universities for post-graduate work, and she was also denied attendance at northern universities for reasons such as lack of exposure to white students in the classroom. Gary was filled with despair, but with the help of Sister Mary Anette Walsh, a Saint Xavier dean at the time, Gary would overcome her hopelessness.
At Saint Xavier, Gary found more than decency. "Being at Saint Xavier was one of the best times in my life. When I arrived, I was in a very vulnerable place in my life and didn't think I was going to be able to realize my dreams because of the numerous rejections I'd received. They weighed very heavily on my spirit. My dean, Sister Mary Annette, assured me that I was going to have the same opportunities anyone else would have to succeed at Saint Xavier," Gary recalled.
Gary grew up in the rural south. She lived on a family farm, where family members and neighbors were an individual's greatest assets. Her family members are hardworking and relentless about their commitment to justice for all people. All institutions in her community were segregated and all of her instructors were black. "We were told we needed to study hard because there would eventually come a day when Jim Crow would disappear, that it could not sustain itself. We were assured this transformation would someday arrive. We had no assurance of that then, but brilliant black students in our classes ultimately did go forward to do exceptionally well and make significant contributions to society," said Gary, who happened to be one of those students, making incredible strides in the field of behavioral and mental health.
Gary, who has a 106-page curriculum vitae (CV) and has authored over 160 publications, is recognized for incredible accomplishments all over the world. She has served as a health care consultant for ministries of health on six different continents over the span of her career. For more than a decade, she was the executive consultant to the Substance Abuse and Mental Health Services Administration's Minority Fellowship Program that is housed at the American Nursing Association. She has served on three national advisory councils that help to set the agenda for programming, including the National Institute of Rural Health and the National Institute of Mental Health, and she served as chair for the National Institute of Minority Health and Health Disparities.
Through a competitive process, Gary was also elected to be an American Council of Education Fellow, was mentored by the president of Georgetown University and served as a fellow in the W.K. Kellogg Fellow Leadership Fellowship Program, Group Eight. She has also presented her research and acted as a keynote speaker in multiple countries. Her most recent trip was to Singapore for the 2019 Congress of the International Counsel of Nursing, a component of the World Health Organization, where she was involved in five presentations and provided consultation for nurse colleagues from across the world.
Gary has many other unique achievements. Gary received the Book of the Year award from the American Nursing Association for her textbook, "Psychiatric Nursing," and is currently in the process of editing a text on population health and health disparities. She was also instrumental in editing and publishing (in collaboration with the W.K. Kellogg Foundation) the first textbook for and by nurses and other health professionals in the Kingdom of Lesotho, Southern Africa, "Primary Health Care in the Kingdom of Lesotho."
Currently, Gary holds an endowed chair at the Frances Payne Bolton School of Nursing with a joint appointment in the department of psychiatry at Case Western Reserve University in Cleveland. She is also a distinguished Professor Emeritus at the University of Florida Gainesville. In her position at Case Western Reserve University, she has developed the Provost Scholars Program, where she works with secondary education students in one of the poorest communities of the United States. Gary is an advocate for the underrepresented, working in conjunction with SXU's mission to serve the underserved, something she first encountered in her time there. "Where I was from, blacks weren't even allowed admission to the public library, but at Saint Xavier, I was welcome to go there and study. I gave my first presentation to the public in McGuire Hall. This is the first place I met and developed significant relationships with white students and faculty, all of whom treated me as a peer, and with enduring respect," Gary noted.
The disparity Gary has faced has only made her stronger. A psychiatrist once told her he was amazed at how "articulate" she was, but opined his disbelief that she, a black person, could relate to his patients. "To me, racism is a figment of the imagination. It's made to oppress and control, but there is no truth in it. What I've learned about harsh laws of bigotry and hatred is that they are about restricting opportunities. Saint Xavier gave me an opportunity, and they were decent and kind and respectful, and that's why I love the school," Gary declared.
Gary's advice for current students interested in pursuing behavioral and mental health is to prepare oneself with research, theory and practice. Gary, who was a part of the Inaugural Sigma Theta Tau International Society of Nursing while at Saint Xavier, said, "Know that every human being should be respected and treated with the utmost dignity. As a graduate from SXU, you are expected to become a leader and make a dynamic impact in any community and in any place in the world."
When asked what plans she has for the future, Gary said that a return to SXU is on her bucket list. "I loved everything about Saint Xavier," Gary reminisced. "I enjoyed living in the dorm and participating in informal yet powerful and meaningful conversations with the students and the Sisters. There were lessons learned about human behavior and the power of dreams and opportunities. The food was excellent; we had family-style dining every night and it was so elegant. I used to go out to Lake Marion and read my books, and I went to many of the activities and forums planned for undergraduates because I was the only graduate student living on campus. My classmates and I would go to the symphony, the museums or dinner, stay out all evening, and then in the early morning, they'd be up to go to Mass. What an experience!"
Gary's message to the current SXU community is one of gratitude and inspiration. "I loved my peers and faculty, all of whom had my best interests in mind. My classmates taught me about respect and preserving dignity, something we should all strive to do for one another. When I left, I felt confident. I truly feel that, had it not been for Saint Xavier, I wouldn't be where I am today. Because of those who mentored me and committed to me, I have transcended stereotypes. I have made contributions to society and put forth work toward improving the human condition. I am sincerely grateful. Saint Xavier will be in my heart forever."
---