SXU Alumna's Legacy Honored With Nursing Scholarship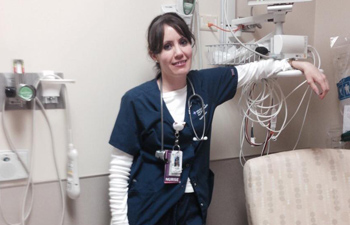 The late Saint Xavier University (SXU) alumna Renee Isadore '06 made an incredible impact on the people around her as a nurse. Her legacy, fortunately, will live on to impact others, thanks to those who loved her dearly and came together to form a nursing scholarship that will assist SXU students who are as passionate about nursing as she was.
Renee, who tragically passed in June 2018, knew she wanted to be a nurse since high school and was incredibly passionate about nursing, consistently proving herself as a dedicated, compassionate, understanding and adored nurse among her patients and colleagues. Two of the people who loved Renee the most decided that the best way to honor her legacy would be to do something that would be illustrative of her passion – helping others. Linda Vahl, Renee's best friend who has known her since 1987, and Eddie Isadore, Renee's husband, worked to put together the Renee Isadore '06 Memorial Scholarship, which will provide financial support to a student enrolled in an academic discipline in the School of Nursing and Health Sciences (SONHS). The scholarship recipient will be announced in spring 2021.
"I wanted Renee to live on forever, and I think her family is truly comforted by this. There is something good we created out of the pain we all had, and Renee was both a proud graduate and someone who would go above and beyond to take care of those in need," said Vahl.
"She would love the idea that we did this in her honor. She was a very selfless and humble person, and my hope is that the student who receives this is just as passionate as Renee. It was in her DNA to help others, and now that will be passed on," said Eddie Isadore.
Renee had a larger-than-life personality, radiant smile and made friends wherever she went. She loved her time at SXU and was an incredibly popular nurse at Advocate Christ Medical Center, not only for her warm and loving demeanor, but also for her work ethic and professionalism. She was always extremely punctual and received numerous compliments about her integrity. The hospital set up an award system which offered a free cafeteria lunch to any nurse who received a phoned compliment, and Renee had an entire stack of compliments.
"Renee could have gone anywhere she wanted, but she wanted to go to SXU. With the education Renee got at SXU, there wasn't a director at Christ Hospital who didn't want Renee to work in their department," said Eddie Isadore. "She was hired before she even graduated. When the hospital opened up a new outpatient surgery, they wanted to grab Renee to work in the department, but her boss didn't want her to go because she was the best on the floor."
"Nursing was her identity," added Vahl. "She met her calling and consistently tried to better herself in her profession. She was a 24/7 nurse. Some people turn off their work after they clock out, but Renee took care of anyone at any time."
Eddie Isadore and Vahl have carried on Renee's legacy in multiple ways, donating to the Ronald McDonald House, women's shelters, animal shelters, halfway houses and more, all in memory of Renee. Every year on Renee's birthday, they pay it forward, a tribute to Renee's mission of taking care of others, and now, her mission will live on forever at Saint Xavier.
"We were successful in raising this endowment for two reasons – mainly because of the person Renee was and the loss of good she would have done for her patients, as well as the reputation of Saint Xavier University as such a solid higher education institution," said Vahl. "Eddie and I were relentless in doing this. It's really important to so many people that we keep her spirit alive."
"We thank the donors," said Eddie Isadore. "This endowment is one of the fastest-growing endowments we've ever seen. We will continue to fundraise so that we can help students become the best nurses ever."
---