SXU Alumna Named CNO of Advocate Trinity Hospital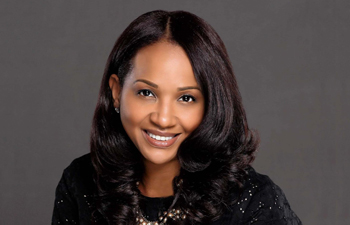 Saint Xavier University (SXU) alumna Gwendolyn Oglesby-Odom, Ed.D., MSN '10, BSN '06, RN-BC, NEA-BC, has been named chief nursing officer (CNO) of Advocate Trinity Hospital in Chicago. In her new role as CNO, Oglesby-Odom will oversee all aspects of nursing care for Advocate Trinity Hospital, and her impressive career started at SXU.
Oglesby-Odom completed both her bachelor's degree in nursing and master's degree in clinical leadership and nursing education at SXU. In 2015, she completed her doctorate in education with a focus on ethical leadership at Olivet Nazarene University. Oglesby-Odom has many significant nursing certifications, has contributed to multiple publications and is involved in a number of professional organizations. The trajectory of her leadership and accomplishments is vast.
As a results-driven, resilient and strategic nurse, Oglesby-Odom has worked with the Chicago Centers for Health Systems Development and the Chicago Department of Public Health to successfully implement a Hepatitis B Vaccination program that vaccinated 210 and educated 2,643 adolescents housed within the Cook County Juvenile Detention Center in Illinois. She has also worked with community, faith-based, non-profit and philanthropic organizations to effectively manage individuals, programs and budgets that have resulted in the provision of quality health care services and health education to individuals of varying social economic statuses.
Oglesby-Odom has built a solid coalition of nine community, faith-based and national organizations while serving as a community affairs specialist for the National Black Leadership Initiative on Cancer and chairperson of the Cancer Committee for the Chicago Chapter of the National Black Nurses Association. She spearheaded a culturally-specific cancer awareness educational program titled "Stay Beautiful, Stay Alive," which focused on educating 2,494 African American women on the prevention of breast, lung, colorectal, cervical and prostate cancer in beauty salons in the Chicagoland area. Before taking the position of CNO, Oglesby-Odom served as vice president of NavCare and vice president of NextLevel Health.
The position of CNO is community-facing, and Oglesby-Odom aims to build relationships and address some of the social determinants of health needs the community has. Many of the patients suffer from domestic violence, living in food deserts and not having access to appropriate mental health resources, and these stressors contribute to bad health.
"Until we address the social determinants of health, we will never improve health outcomes," said Oglesby-Odom. "We need an initiative that focuses on helping. It's up to us to make sure we develop relationships with community-based organizations and social services to help take care of our patients."
Another high-level goal of Oglesby-Odom is to help bring the hospital to magnet status, a designation granted by the American Nurses Credentialing Center (ANCC) to health care organizations that provide the very best in nursing care and help shape future change in the nursing profession. She will also focus on building stats within the hospital, encouraging advanced degrees and certifications and ensuring staff connect with supportive programs and resources. Oglesby-Odom also plans to build on remote patient care and telehealth to ensure patients are still getting the services they need even when they don't feel safe enough to come back.
Oglesby-Odom's favorite part about nursing is taking care of people, and as a nurse leader, she loves leading teams and inspiring individuals to be their best. "As a mom, daughter, and sister, I have a nurturing aspect to my life and nursing feeds that aspect," said Oglesby-Odom. "Compassion and service every single day becomes part of who you are and what you do. At SXU, one of the topics we always talked about was whether nursing is an art or a science, and with the art of compassion, it's a little bit of both."
Oglesby-Odom finds that her time at SXU in the nursing program helped to prepare her both clinically and emotionally. While at SXU, Oglesby-Odom was named "Outstanding Nursing Student of the Year" and was inducted into Sigma Theta Tau.
"Saint Xavier has such a rigorous program. It really prepared us to work well on the front lines to deal with adversity and challenges. I started as an LPN and was able to build on skills and learn how to deal with conflicts, resolve problems and work as a part of an interdisciplinary team," said Oglesby-Odom. "Many great things happened during my time there, which is why I came back to do my graduate work."
Though Oglesby-Odom had many beloved professors, she found special mentorship in nursing professors Carol Kostovich, Ph.D., RN, CHSE, Michele Poradzisz, Ph.D., RN, CNL, CNE and Karen Wood, DNSc, RN, CCRN, CNL.
"I was so pleased, but not surprised, to hear of Gwen's appointment as CNO of Advocate Trinity Hospital. Since she was a student, Gwen has displayed traits of leadership and entrepreneurship and since completing the MSN and Nurse Educator certificate programs at SXU, Gwen has established herself as a leader in home health care and senior care," said Poradzisz. "She is well-suited for her new position. Trinity Hospital is one of the clinical sites for our BSN program, so I look forward to the opportunity to collaborate with Gwen in her new role."
Oglesby-Odom encourages current SXU nursing students to understand their "why," believing that holding onto purpose helps nurses get through hard times. She also encourages students to really enjoy their college-to-career pathway at SXU.
"SXU was instrumental in building the foundation that launched my nursing career. I am very grateful for the foundation they gave me and very much appreciate having the opportunity to serve in this capacity with the knowledge they gave me," said Oglesby-Odom, who looks forward to building a legacy of giving back in her new role. "My goal is to transform the community so they can receive the best care possible."
---