SXU Alumna Named Outstanding Biology Teacher of the Year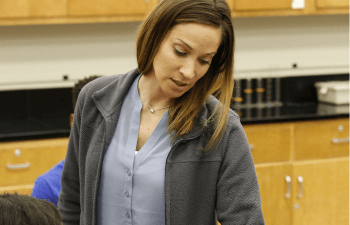 Saint Xavier University (SXU) alumna Michelle Kozik '04, '07 has recently been recognized as the 2019-2020 Outstanding Biology Teacher of the Year by the National Association of Biology Teachers. Kozik was awarded based on her dedication, student-teacher relationships and pedagogy, along with her positive energy, enthusiasm and dynamic teaching style. Kozik will be honored in a virtual ceremony in November during the association's annual convention.
"Being selected as the recipient of this award is truly an honor," said Kozik. "To me, this award is evidence that hard work and dedication pays off, both inside and outside the classroom. I am always striving to improve in all that I do professionally, and this award serves as the new bar to be met."
In addition to the biology degree Kozik earned as an undergraduate at SXU, she returned in 2005 to earn a master's degree in teaching and leadership and in 2010 to earn a general administrative certificate. Kozik credits SXU for preparing her for her teaching career, believing that the education courses she took provided a solid foundation on which to hone her teaching repertoire.
"I fondly remember Dr. Meg Carroll telling our class that teachers make over 1,000 decisions in one day. She wasn't kidding! Of course, these decisions, and more importantly, the outcome of these decisions, provide you an opportunity to learn and grow professionally," said Kozik.
Kozik's favorite thing about SXU was the smaller class sizes, appreciating the opportunity to engage in meaningful conversations with her peers and professors. Some of her favorite professors and courses include Comparative Anatomy with Dr. Stanley Boyer, Invertebrate and Ecology with Dr. Liane Cochran-Stafira and Human Physiology with Dr. Randolph Krohmer.
Kozik encourages current students interested in entering the education field to remember that despite the exhaustion, teaching is one of the most rewarding careers. "I've received countless emails over the years from former students who have shared that they appreciate all that I've taught them. Emails like this make you realize that your effort is not for naught and mean so much more than any award or accolade."
As Kozik looks to the future, she envisions herself pursuing an administrative role, though she's not quite ready to leave the classroom yet. Until then, she plans to continue improving her physics and chemistry teaching methodology.
"I think the greatest teachers are those that take time to reflect and are open to change. The instruction, labs and activities that take place in my classroom now are vastly different from those that took place in my classroom 15 years ago. Much of my teaching pedagogy and ideologies have changes in response to my students' academic and social-emotional needs, as well as societal changes," said Kozik.
---