SXU Alumna Offers Real-World Finance Skills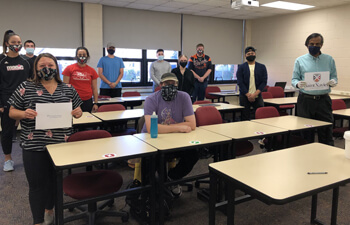 Saint Xavier University (SXU) alumna Tina Donoghue '08 is giving back to students in a way that will prepare them for successful careers. Donoghue, the director of Strategic Growth at Northwestern Mutual Chicago, is conducting a presentation series for FINC 310: Money, Banking and Financial Markets, taught by Indranil Ghosh, Ph.D., chair of the Division of Accounting and Finance. The presentations are designed to introduce students to real-life financial experience and will culminate in an internship opportunity with Northwestern Mutual Chicago.
"This is a great opportunity for the students to interact with a financial services professional who is also an SXU alumna. Tina is bringing a real-world perspective to my finance class, including having the students converse with her colleagues at Northwestern Mutual Chicago about professional life as a financial planner and discussing internship and future employment opportunities," said Ghosh.
The presentation series takes place in September, October and November. Donoghue and Northwestern Mutual Chicago partnered with the Graham School of Management (GSM) to create a high-impact learning experience that exposes students to real-life responsibilities and tasks of a financial advisor. Students engage in hands-on work, like having real conversations with people in their network about financial planning.
"The vision that I had coming in was to create something that was more than a table at a career fair. I want students to truly know me and also the company I represent. Northwestern Mutual Chicago is the flagship office of Chicago. We've been around since 1872, so we are a cornerstone of what Chicago was built on, much like SXU, which makes this the perfect collaboration," said Donoghue.
As a comprehensive planning company, Northwestern Mutual assists clients with planning for both life insurance and investments. At the end of the series, up to four of the 25 students in the course will be able to participate in an internship with Northwestern Mutual Chicago, where they will have conversations with real clients and experience the actual career of a financial advisor under the guidance of a full-time advisor.
"When I started at Northwestern Mutual Chicago two years ago, I had a vision that I wanted to make an impact on SXU students. I wanted to do something to bring more attention to SXU and its high-caliber students, which I do by introducing them to an amazing career and giving them exposure to something they may not have been exposed to otherwise," said Donoghue.
"I definitely enjoyed Tina's visit to the class. For some time now, I've been thinking about what I want to do for a career after college, and being a financial advisor sounds really appealing to me. I really like the idea of building personal connections with clients and I'm considering applying for an internship in the near future," said Hunter Salisbury, a finance student.
Donoghue recalls the ways SXU prepared her for her career. "I had a full-time job up until the first day of my senior year, and when I found out the company would be closing, I walked into the Admission Office crying. They interviewed me right then and there and that kickstarted my career in recruiting. I recruited in colleges for 11 years before starting at Northwestern Mutual Chicago," said Donoghue.
Donoghue's favorite part of attending SXU was getting involved on campus. Though she was a commuter student, she was a student ambassador. In her role working in the Admission Office, she gave tours to visiting students and shared her experience with prospective students. She also participated in the study abroad program, spending a semester in Rome.
"One of the reasons I chose to attend SXU was because of the study abroad program. Studying in Rome was the most amazing five months of my life! I encourage every student to study abroad. It taught me patience and was such a great experience to not only learn about other cultures, but also develop an appreciation for what we have here in America," said Donoghue.
She also enjoyed her courses on the SXU campus, especially those taught by Matthew Costello, Ph.D. "He is just so brilliant. He really connected to everybody, and even though I was not a political science student, he never made me feel like I didn't belong or couldn't bring value to the conversation," said Donoghue.
Donoghue advises SXU students who are interested in entering the finance field to not be afraid if they're not "numbers people." According to Donoghue, great financial advisors know how to build relationships and care about their clients, something she connects to SXU's mission and core values.
"SXU's mission of serving compassionately relates perfectly to what I do and who I work with every day. My work represents good-hearted people who help their clients reach financial security. It's truly about helping people and it all comes down to making an impact on others' lives through our work," said Donoghue.
Donoghue hopes to continue with these presentations into the future and is looking forward to seeing which other classes she may speak with. She's currently working with GSM staff to determine how Northwestern Mutual Chicago can partner with SXU outside of the classroom, including sponsorship for events and creating a larger presence on campus.
---