SXU Alumna Promotes Domestic Violence Awareness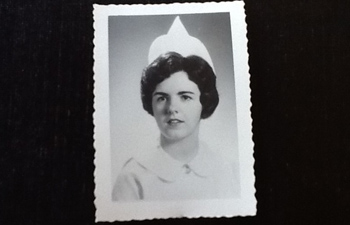 Saint Xavier University (SXU) alumna Diane O'Brien '62 is using the skills she gained at SXU to compassionately serve others in her quest to spread domestic violence awareness as part of the Archdiocese Chicago Domestic Violence Outreach (ACDVO). The mission of the organization is to focus on awareness, services and prevention.
After O'Brien graduated from Saint Xavier, she served as a public health nurse for 14 years. She wanted to go on to get a master's degree in public health, but she had six children who were nearing college, so she stepped aside to put money toward their tuition. Though she did not go to graduate school, she did become certified in parish nursing and served as a parish nurse at St. Joseph's Catholic Church in Homewood for eight years. Parish nurses, or faith community nurses, care for members of a parish and integrate faith and healing to promote wellness within the community they serve. Parish nursing embraces four major principles: spiritual formation; professionalism; shalom as health and wholeness; and community, incorporating culture and diversity.
"As a parish nurse, I helped assist parishioners with care for their mind and body, but also their soul and spirit. I loved the opportunity to help," said O'Brien, who would use the skills she learned in compassion and caring as a parish nurse in her future work with domestic violence.
O'Brien first became involved with domestic violence issues in 2000 after learning about it in a presentation sponsored by parish nurses from Deacon Dan Welter, a judge of domestic violence court. She decided that St. Joseph's needed to know more about it and become aware of the people in the parish suffering from it. She began her mission to start a domestic violence ministry under the world of parish nursing and eventually moved on to assist at Sacred Heart Parish in Palos Hills. After a presentation from Father Chuck Dahm, Archdiocesan director of ACDVO, O'Brien asked to take a role within the organization and soon began helping parishes around the Chicagoland area prepare to handle domestic violence issues.
"After that presentation, I wondered how we could address this issue in congregation," said O'Brien. "My work in setting up parishes to handle domestic violence issues involves training mentors, providing them with resources, and teaching awareness and prevention."
Domestic violence statistics reveal the urgent need for awareness, help and safe spaces. 1 in 4 women and 1 in 9 men experience intimate partner violence, and nearly 20 people per minute are abused by an intimate partner in the United States. "I have a very good ear and a closed mouth. When you are talking to somebody who is telling you about their problems, you see a lot of people don't even know what is happening to them, so I ask them if they have considered they are victims of domestic violence. There are many forms of abuse beyond physical, including verbal and emotional," said O'Brien.
O'Brien believes that the best way to help domestic violence victims is to listen, believe and be compassionate. "Be able to give them the help they want and need. Ask the person what it is they need right now and figure out how you can go about doing it. I tell the victims I help to start the process of healing by getting support and counseling."
As she continues to spread awareness, O'Brien is very grateful to have met Bibiana Tohme, a survivor of domestic violence, spokesperson for survivors and part of ACDVO's executive board along with O'Brien. The two work closely together to help spread awareness that the Catholic Church is a safe haven for domestic violence victims.
When she's not helping domestic violence victims, O'Brien is still heavily involved with Saint Xavier. O'Brien has been a member of the Alumni Board since 2015. She is an active member of Saint Xavier's Golden Gals and volunteer for the School of Nursing and Health Sciences (SONHS) Scholarly Conversation Series. O'Brien also received Saint Xavier's Alumni Award in 2014 and was part of Saint Xavier's Renaissance Academy.
O'Brien finds that her time at SXU helped prepare her to be a parish nurse and for her work with the ACDVO, and she lives the SXU mission of serving with compassion daily.
"The writing skills I developed in college helped me to learn how to gather resources and do research, and I use that when I write articles for our newsletter. Because of SXU, I am at ease in writing – the spiritual part of it. I am reminded to go out and do good, to be compassionate and take care of people," said O'Brien.
O'Brien's favorite part about SXU was making friends. She went straight from Mercy High School in Chicago to Saint Xavier, and she enjoyed walking into a place where she already knew many people but got to meet more, many who would become lifelong friends.
"At SXU, I got to meet a really diverse group of people. One of my favorite professors was the late Sister Annelle, who taught classes on maternal and child health. She was wonderful and got me and many other people through school during a lot of adversity."
O'Brien encourages current SXU students interested in entering the social services field to put their faith into action. "If you have a glimmer of interest in something try it out. It may not work, but at least you tried. If you love it, you will enjoy your work."
During her time at SXU, O'Brien was involved in the choral group for two years and was also a commuter student, better known in those days as a "day hop." With other commuter students, she helped to put together social events and found ways to engage students. Now years later, she remains committed to the University with her work on the Alumni Board.
"This is my sixth year on the Alumni Board, and I bring something special to them – the perspective of what people near my age think and do. I am the one who will say, 'now wait a minute,' and they will listen to my ideas about how to engage people in my demographic," said O'Brien, who even encouraged and inspired beautification of University landscaping.
Some of O'Brien's favorite people at SXU are Charlene Bermele, DNP, RN, CNE and Mary Murphy-Smith, DNP, RN. O'Brien met Bermele and Murphy through a domestic violence awareness seminar and they have been close ever since.
"The work Diane Diane has done is wonderful. What a difference she has made in this area of violence against women!" said Murphy-Smith.
As O'Brien looks to the future, she plans to continue spreading domestic violence awareness and help as many people as possible. She will also remain very involved with Saint Xavier and inspire others to take on the type of mentorship she so enjoys giving.
---