SXU's American Red Cross Club Donates Face Masks to Shelter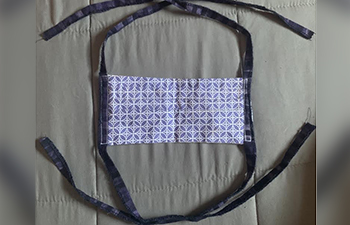 Saint Xavier University's (SXU) American Red Cross Club, a registered student organization (RSO), recently gave back to the community during the COVID-19 pandemic by donating over 50 masks to the Daybreak Center in Joliet. As a branch of the Greater Chicago Region of the American Red Cross, the club's aim is to work to provide emergency assistance, disaster relief and disaster preparedness education in the United States.
The Daybreak Center, part of Catholic Charities, provides emergency housing and supportive services to individuals and families who are homeless. As positive cases of COVID-19 surged across Illinois, the American Red Cross Club knew they wanted to help provide face masks to groups of people with limited access to protective garments. The club stays consistently updated on current news so they can help people within the community and beyond, and they worked with a community member to make handcrafted masks.
Though this was the first time the club worked with Daybreak Center, they were very pleased to help an organization that so closely aligned with their own objectives and values. Both groups aim to foster awareness of larger issues and both seek to advocate for underserved populations.
"An experience like this is reflective of the University's mission and core values. We plan to be involved in more projects of compassion, where we will stand with the community in times of need and through multiple endeavors," said Henrietta McDonald, a nursing major. The club plans to stay connected to and live out the University's core values by actively searching for ways to advance the genuine well-being of the community.
"The American Red Cross mission is to prevent and alleviate human suffering in the face of emergencies by mobilizing the power of volunteers and generosity of donors," said Nadia Diaz, the club's publicity officer and a nursing major. "We hope to expand the club as much as possible because we desire to do whatever we can to help during these crucial times. We're a very inclusive club and appreciate and listen to every idea that is given. We truly want to make a difference at the University and for the community."
The American Red Cross Club encourages the SXU community to give back as much as possible while the world is in such an uncertain state. Donating to and volunteering for nonprofit organizations, particularly ones who have limited financial resources, is a great way to get involved. The American Red Cross is currently calling out for the community to participate in blood drives, as the pandemic continues to cause a shortage of critical blood donations.
The club is already at work on their next project and plans to carry out many more into the future. "We plan to create first aid kits and care packages for those in need. After we gather enough materials and supplies to begin creating the packages, we use tools to inform the community, like sending out flyers and posting on social media to spread the word and do our best to support the underserved," said Haley Jean Kumrie, a nursing major.
For more information about the American Red Cross club, email arcclubFREEmymail.SXU or visit The Den.
---