SXU Announces 2020 Commencement Ceremony Speakers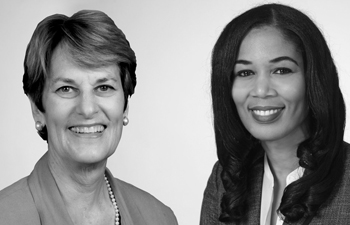 In just a few short months, students will transition from scholars to career professionals. Graduates will don academic regalia and hear inspirational speeches from those who have paved the way to success. Saint Xavier University (SXU) is pleased to announce the 2020 Commencement speakers, who will share their knowledge and expertise while congratulating this year's graduates on achieving their high-quality academic degrees.
Former Saint Xavier University Board of Trustees member Mary Clare Loftus '65 will receive an honorary degree Doctor of Public Service, honoris causa and will deliver the Commencement address on Saturday, May 9 at 9:30 a.m. to graduates of SXU's Graham School of Management (GSM) and School of Nursing and Health Sciences (SONHS). Kimbriell Kelly '97, deputy editor for Enterprise and Investigations for the Los Angeles Times will deliver the Commencement address on Saturday, May 9 at 2:30 p.m. to graduates of SXU's College of Arts and Sciences.
A proud and active alumna of SXU, Loftus graduated from the School of Nursing with a Bachelor of Science in 1965 and received her M.Ed. from Loyola University Chicago in 1973. She worked at Mercy Hospital as a staff nurse and nurse instructor and went on to raise four children while embarking on a career of volunteer leadership, most notably with SXU. Loftus joined the SXU Board of Trustees in 1996, serving from 1996-2007 and 2011-2018. She worked with many trustee committees, including student affairs, advancement and trusteeship. She is a recipient of the Sister Dorothy Marie Peschon Award in 2005, which recognized her contributions to the Saint Xavier community, acknowledging her as an SXU graduate whose life is marked by service, compassion and a yearning for knowledge. Along with her husband, the late Dr. Gerald Loftus, she received the Shield of Saint Xavier Award in 2011 – the University's highest honor. Loftus remains engaged in program development and funding student scholarship support. Most recently, she made a substantial commitment to establish the Gerald F. Loftus, MD and Mary Clare Loftus, RN, M.Ed. Endowed Professorship for SXU's SONHS, which is the first professorship named after an individual or family in the University's nearly 175-year history.
A 2019 Pulitzer Prize finalist, Kelly graduated from the College of Arts and Sciences with a Bachelor of Communication in 1997. As deputy editor for Enterprise and Investigations in the Washington Bureau of the L.A. Times, she leads a team of five reporters focused on major areas of policy and issues of public record. She is also a visiting lecturer in the Humanities Council and Ferris professor of journalism at Princeton University. Kelly began her career at the Daily Herald and then investigated issues surrounding racial and economic quality as a reporter, editor and publisher of the Chicago Reporter. She is the recipient of the Polk Award for National Reporting, the NABJ Salute to Excellence Award, the Herman Kogan Award, the Paul Tobenkin Memorial Award, the Clarian Award and the Chicago Headline Club Award.
The Commencement ceremonies will be held in the Shannon Center, located at 3700 West 103rd Street. This event requires tickets for admission. For more information about SXU's 2020 Commencement ceremonies, visit SXU's website or contact commencementFREESXU.
---