SXU Art and Marketing Students Gain Real-World Experience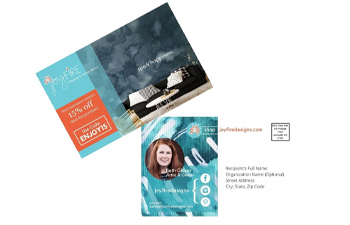 Saint Xavier University (SXU) adjunct art and design professor Jill Miller is bringing action-based, high-impact learning experiences to her art classrooms. During the fall semester, students in her Advertising and Marketing course (ART 322) completed a project where they learned the elements of a fully-integrated advertising campaign and then applied their skills in a real-world setting to produce high-level advertising campaigns for a former reality television producer-turned-artist, Beth Glover.
ART 322 focuses on the business side of advertising. Students explore the research and strategies in addition to the creative and design elements that are necessary for successful advertising campaigns. In their pitches to Glover, students designed websites, social media ads, direct mail campaigns and more. They also researched the cost of these advertising mediums and developed timelines for execution.
"I really found a love for marketing with this class, and what I learned can be applied to many aspects of my life," said Jeanette Hansen, a graduate art education student.
Students were connected to Glover through Miller. Glover is a North Carolina-based professional artist and surface designer specializing in abstract expressionism using watercolor and mixed media. Glover was a previous guest on Miller's podcast, "V is for Victory," a highly-rated podcast that focuses on helping brands, business owners and entrepreneurs rise to success. Miller has been offering this course model since 2014.
"Each time this course is offered, I use my professional connections to obtain a client for the student to complete work for. Previous students have even obtained internships with some clients. The course is impactful," said Miller.
As part of the course, students honed in on their research skills, learned how to make strategic decisions for brands based off their qualitative and quantitative findings and tapped into their creativity to produce the campaigns for Glover. The students presented ideas she had never considered before along with research and statistics she found particularly helpful.
"I will consider these ideas as I move forward with the advertising and marketing of my two brands. I could tell they spent a lot of time and effort on these projects, and I appreciate that very much," said Glover.
At the end of the course, the client accumulated data and creative ideas that will save time and help better organize the brand and marketing strategies. The students gained both a research and creative piece to add to their portfolios and resumes and are able to get a feel for what it would be like to work cross-departmentally in a working setting. They also had a chance to pitch content in a professional setting to an actual business owner, an opportunity that's often not afforded to students until graduate school and beyond.
"Nothing can replace real-world experience. The opportunity to pitch ideas for a real company and directly to the company stakeholders, owners and investors isn't one that even entry-level employees often get, let alone students still in college," said Miller.
---