SXU Alumna Makes Big Strides in Animal Medicine Field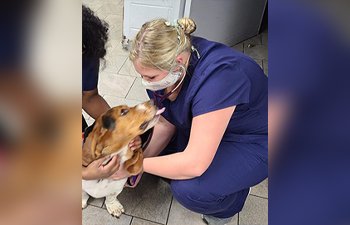 Saint Xavier University (SXU) alumna Rachel Thomas '17, a biology pre-health major, has made significant strides in her work in animal medicine, participating in internships, volunteer programs and conservation efforts. Thomas credits SXU for playing a critical role in her preparedness to tackle and excel in such an extraordinary field.
After graduating from SXU, Thomas began veterinary school at the University of Illinois College of Veterinary Medicine, and she also volunteered with the University of Illinois Wildlife Medical Clinic, where she worked with teams of other students to provide medical care to native Illinois wildlife that were injured, ill or orphaned. She is also very involved in the University of Illinois Veterinary Student Outreach Program and participates in events such as the "Teddy Bear Hospital," which allow children to learn aspects of veterinary medicine by performing physical exams on stuffed animals. "I remember being fascinated by veterinary medicine when I was a child, so I enjoy helping to inspire the next generation of veterinarians," said Thomas.
Thomas has also completed multiple internships, including an elephant-keeping internship with Zoo Tampa, where she learned about operant conditioning in zoological settings while participating in the husbandry of animals including the African elephant, white rhinoceros, Grévy's zebra, various giraffe species and Eastern bongo. Thomas' interest in conservation led her to an internship with White Oak Conservation, where she got to work with a collection of carnivore and avian species, including cheetahs, maned wolves, double-wattled cassowary and crane species. The internship allowed Thomas to continue work in animal husbandry while also learning about species-specific behaviors, as well as zoo veterinarians' roles in conservation and population management.
Now a fourth-year veterinary student, Thomas rotates through the specialty services in the teaching hospital, learning about a variety of cases and honing the skills necessary to be a successful veterinarian. She will soon be completing a small animal general practice externship with Palos Animal Hospital. "My favorite part about veterinary school is that I get to work as part of a team to provide the animals with the best care possible, and I'm also excited to learn about the type of cases presented in primary care practices at my externship," said Thomas.
Thomas finds that her time at SXU was instrumental for her success in veterinary school, believing that the coursework and programs were difficult, but truly prepared her for the long hours, demanding schedule and rigorous study of advanced schooling. "The advisement and guidance of my professors truly allowed me to thrive and develop the skill set necessary to not only understand information, but to apply it to appropriate situations," said Thomas.
She continued, "I was very involved on campus and worked a part-time job at an animal hospital in my junior and senior year, so learning how to manage my school responsibilities, personal life, work schedule and free time was a skill that could not be taught from a textbook. It's a dynamic state. Life changes quickly, and there is no amount of planning that can prepare you for unexpected complications. SXU gave me the tools to learn how to set realistic expectations and how to respond when things don't go according to plan, which is an invaluable skill."
In addition to her studies, Thomas was also part of WXAV, SXU's radio show, as well as a member of Beta Beta Beta, the National Biological Honor Society, and she also served as a biology tutor, facilitating both individual and group sessions for introductory biology courses, comparative anatomy and genetics. "I loved helping students learn the material and create study strategies and plans. I'm very proud to have helped students accomplish their goals," said Thomas.
Thomas cites the many wonderful memories and lifelong friendships she made at SXU as some of the best things about being there, as well as faculty, naming Christopher Appelt, Ph.D., biology professor, as one of her mentors. Thomas completed undergraduate research with Appelt during her junior and senior years, observing the behavior of wild flocks of monk parakeets in the Chicago suburbs. "It was such an incredible learning experience and really helped me improve my observation skills, which are critical for working with animals."
"Rachel is passionate about animals and learning," said Appelt. "Through our research, she got experience in collecting and analyzing data. Because of the data collection techniques she developed through our animal behavior research, the supervisors at her wildlife internships would assign special responsibilities and tasks to her. I'm proud of her successes, and delighted to know that the coursework and research experiences she had at SXU helped her to obtain unique internships and admission to veterinary school. She tries to come back to visit me at SXU at least once a year!"
When she graduates in 2021, she hopes to work at a primary care animal hospital with smaller animals and then eventually work with zoologic companion animals. "It is my hope to help honor the human-animal bond and provide animals with excellent health care," said Thomas, who can envision herself as happy and successful no matter the species she ends up working with. "Since I was a child I wanted to be a veterinarian. It has been my dream job for as long as I can remember, and how many people can actually say their lifelong dream has come true?"
When asked what advice she has for students interested in entering the veterinary medicine field, Thomas stresses that it's important to get experience. She suggests calling local animal hospitals to arrange to shadow, and she recommends observing different aspects of the field to get exposure to multiple species. Thomas also wants to highlight that veterinary medicine is more than just a singular career path, and that it includes the primary care of species such as dogs, cats, horses, cattle and zoologic companion animals. In addition to primary care, there are also specialist positions in a variety of disciplines, including cardiology, oncology, ophthalmology and dentistry.
"Veterinarians are also employed by the Centers for Disease Control and Prevention (CDC) and work to monitor diseases which can affect both animal and human populations. They also work with wildlife and zoological species to help conserve wild populations and work with laboratory animals to further research that also benefits human medicine," said Thomas.
"I have only scratched the surface of the depth of this incredible, exciting profession."
---