SXU's Men's Basketball Coach Tom O'Malley Announces Retirement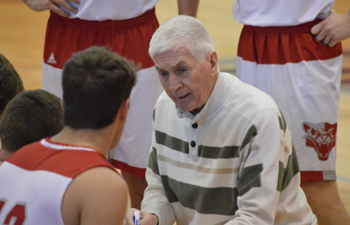 Saint Xavier University head men's basketball coach Tom O'Malley has announced he will retire after a 23-year coaching career with the Cougars, following the end of the 2019-20 academic year.
The winningest coach in Saint Xavier's men's basketball program history, O'Malley guided the Cougars to over 500 victories since joining the program in 1997. A three-time CCAC Coach of the Year recipient, O'Malley has seen his teams claim seven CCAC championships and qualify for the NAIA Tournament 12 times.
"I have been proud to serve Saint Xavier as a coach of basketball, academics, and life, for 23 years," said O'Malley. "God has blessed me with being able to counsel so many wonderful young men; I'm especially proud of our team GPA and graduation rate over the years. I'm grateful to all my former players; I loved working with these young men, developing them into leaders not just in the game of basketball, but throughout their lives."
During his time at Saint Xavier, O'Malley has coached a total of 71 All-CCAC Team recipients and 20 NAIA All-Americans. Six of O'Malley's former players have been inducted into the Saint Xavier Athletics Hall of Fame, a group O'Malley himself will join during the 2020 SXU Athletics Hall of Fame ceremony on April 18.
"I have been blessed by God with a wonderful wife of 54 years, Carol, and three children, Tom, Mike and Carrie, and 13 wonderful grandkids," added O'Malley. "My life has been a success due to a great wife, family and friends, and I hope to continue to help others during my retirement years."
"Coach O'Malley is closing out a career that spans three decades at Saint Xavier; we just don't see that kind of longevity anymore, let alone his sustained success," said Saint Xavier Director of Athletics Allison Kern. "In my short time here I have met many former athletes whose lives have been touched by Coach O. We are grateful for his many years of service to the student-athletes at SXU, and we look forward to celebrating him down the home stretch of his final season. I have no doubt that many of his colleagues around the CCAC share that sentiment."
The University will recognize O'Malley following his final regular season home game, set for Wednesday, February 19 against St. Francis.
---