SXU Celebrates Black History Month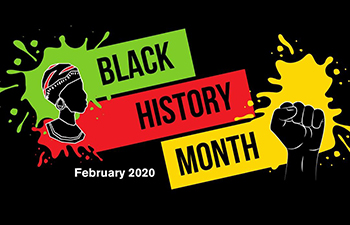 Saint Xavier University (SXU) is celebrating Black History Month by hosting a number of events that celebrate the many achievements and contributions made by African-Americans. The events will honor the culture, revere the accomplishments and inspire discussion.
"I see Black History Month as an opportunity to educate the community about the African-American culture. This month is not being exclusive but inclusive. All Black History Month events are open to the public and we encourage everyone to come and learn something new," said Lisa Lyons, academic resources advisor.
"It is important to celebrate Black History Month and attend these events. National African History or Black History Month allows us all time to acknowledge and celebrate the contributions that Americans of African descent and those across the diaspora have made to American and world history in their pursuit of freedom, equality and humanity. As academicians, we recognize some educational institutions rarely holistically teach Black history beyond slavery, the Civil War and the Civil Rights Movement. This creates an incomplete understanding of the diaspora and its members," said Tracy Crump, Ph.D., J.D., LL.M., professor of Criminal Justice and director of African-American Studies.
"In the past, it's been noted that the missing pages of world history are those comprehensively discussing Black history. While every day should afford the opportunity to address this absence, February is a perfect time to begin that journey. Partaking in Black History Month events deepens our understanding of the experience of Americans of African descent and allows us to explore the challenges and triumphs of Black people in general. It affords a platform to be empowered and engaged. Everyone thrives when they believe their contributions are valued, and valuing one's contributions begins with acknowledgment of existence, exposure to diasporic cultures and a commitment to self-paced reflection in the future, which is why it's so important to celebrate Black history and to attend the Black History Month events at SXU," added Crump, who will give a talk on the continued fight for housing equality as one of many educational Black History Month events.
SXU encourages the entire community to join together to celebrate Black History Month and immerse themselves in the history, culture and scholarship of African-Americans.
Black History Month Library Display
All month long, the Robert and Mary Rita Stump Library will display #OwnVoice works selected by librarians, faculty, staff and students, ranging from children's books and literature to scholarly monographs.
Monday Food Specials – February 3, 10, 17 and 24
Each Monday in February, the SXU Diner will offer a special food option in celebration of Black History Month. Check out the campus dining web pages for weekly lunch specials.
Elected of Zion's Third Annual Open Mic Night – Saturday, February 8
Join Elected of Zion for food, fun, laughs and great performances at the third annual open mic night.
Study Abroad Information Session – Tuesday, February 11
Join the Center for International Education to learn more about international educational experiences. Students can also meet SXU's CIE staff and hear from other students about their unique experiences. Discussions will focus on different programs, being a minority abroad, adjusting to life outside the U.S., funding your travels, mental health abroad and more!
Back Down Memory Lane – Thursday, February 13
Walk through the decades, starting with the Harlem Renaissance and continuing through to the start of a new millennium.
Make Love Make Sense – Thursday, February 13
Join SXU peer ministers for an event that involves a discussion about the characteristics of successful relationships and evaluating social standards of black love.
Rhythm and Blues – Saturday, February 15
Enjoy an aspect of the African-American culture by listening to R&B music.
Let's Talk Curls – Monday, February 17
Discuss different textures, tips and stories about natural hair.
Dr. Crump's Scholars Talk: Following the Red Line – Wednesday, February 19
Join Dr. Tracy Crump as SXU hosts Attorney Danielle McCain, associate director of the UIC John Marshall Writing Resource Center, in a discussion of the continued fight for housing equality.
Third Annual Convening of Black Excellence – Thursday, February 20
All students are invited to network with successful black professionals and pioneers in Chicagoland. This event will give students a glimpse of what their futures could look like.
Trap and Paint – Thursday, February 20
During the Harlem Renaissance, there was a rebirth of the African-American culture and defining of an identity through forms of art and music. Today, a form of art that is considered a part of African-American culture is trap music. Come enjoy trap music while painting a canvas and discussing what your painting means to you.
The Harlem Renaissance Living History Museum – Wednesday, February 26
Students enrolled in HON 320-01 will present original works of art inspired by Harlem Renaissance artists and serve as 12 different Harlem Renaissance notables. Patrons of the museum will be able to stand in front of each character and learn more about the character's contribution to this historical legacy.
For the Culture – Thursday, February 27
Come celebrate black culture with Hall Council with performances, music, activities and more.
Natural Hair Health Day – Friday, February 28
Follow #sxublackgirlmagic all day to promote natural hair health. No matter the texture, your hair is beautiful. Check the hashtag for tips during the all-day online program.
African-American Achievement Awards – Saturday, February 29
The sixth annual African-American Achievement Awards will recognize the contributions and achievements of African-American students, faculty and staff at SXU. A reception will follow in the Butler Reception Room.
---