SXU Communication Student Raises $10,000 for Senior Living Community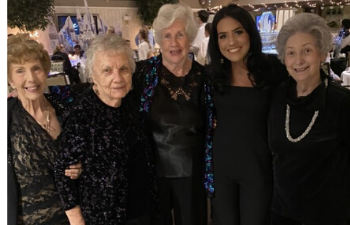 Saint Xavier University (SXU) communication student Mary Kate Pipolo turned her senior project into a fundraiser that raised $10,000 for residents at Peace Village Senior Living Community in Palos Park.
Encompassing the core values of service, hospitality, and compassion, Pipolo drew inspiration from her senior research paper, "Misconceptions of Aging," to host a dinner for the residents, and the small dinner she envisioned turned into a large-scale event that would make a huge positive impact on Peace Village. Lora's Fund provides subsidized care to residents who need financial assistance as their circumstances change or their quality of life extends beyond their resources, and Pipolo's dinner resulted in 150 purchased raffle tickets and an incredible contribution to the fund.
"I shared my project with my supervisors at Peace Village and sold them on the idea of having a 'Winter Wonderland' event with all the residents who mean so much to me. My paper and the event break the stigma that so many people hold against the aging generation. The best part about this project is being able to see how much of a difference I've made. The outpouring of love from the residents and their families after the event made me feel so much joy," said Pipolo.
Pipolo's event took place January 18, and Peace Village was decorated as a gorgeous winter scene. Attendees dressed in formal wear, indulged in gourmet food and desserts, and enjoyed fine company. All the Peace Village residents adore Pipolo, she says, and their families appreciate knowing their loved ones are being cared for by someone who embodies the mission statement of the community—to change how people think about aging.
Pipolo believes that her time at SXU and her participation in high-impact learning processes have been integral in her career preparation and part of what made her project such a huge success. She cites communication professors Blake Paxton, Ph.D., and Brad Mello, Ph.D., as mentors who truly go through great lengths for their students. "When Mary Kate came to me with her idea for her senior project, I was overwhelmed by her enthusiasm for it and green-lighted it right away. What she accomplished was amazing. She shared that it didn't just feel like work for her, that she truly enjoyed it. I think she's found something she's passionate about that will turn into a lifelong career," said Mello.
"My favorite part of attending SXU is knowing that I have professors who truly care about my success. At first, I felt intimidated by my senior project and was scared of having to work on such a big assignment. Looking back, though, I can see why these kinds of projects are important. Through mine, I really made a difference in the community, and SXU has done an amazing job in preparing me for my future," said Pipolo.
When asked what advice she had for other communication students, Pipolo said, "Don't procrastinate, especially not in Senior Seminar! It's important to keep up with work and make connections with people. It all pays off in the end, and I am proud and happy to have worked as hard as I did."
Pipolo plans to continue working for Peace Village and would like to pursue a career through the company she currently works for, Morrison Senior Living.
SXU is proud of students like Pipolo and their dedication to advancing SXU's mission through exercising our core values.
---