SXU Community Celebrates Estrellas de SXU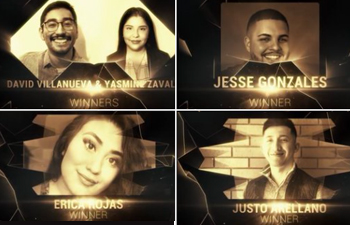 Award Winners
Saint Xavier University (SXU) recently held the annual Estrellas de SXU Latinx Achievement Awards on October 23 to honor outstanding Latinx students for their efforts in academia and leadership. In response to the COVID-19 pandemic, this year, the award ceremony was virtual and hosted on YouTube.
Amanda Lopez, Ph.D., associate professor of history, is honored to host Estrellas de SXU each year to spotlight the academic success, spirit of service and hard work of Latinx students.
"Estrellas de SXU is a time to bring students, families and the larger SXU community together to celebrate the end of Latinx Heritage Month. We knew we could not hold the ceremony on campus this year, but we believed it was important for us to continue the tradition, especially during these times when we all feel isolated and stressed. We wanted students to know that we recognized the efforts and sacrifices they have made to further their education and give them strength to push forward," said Lopez.
The ceremony was opened by Corina Salas, president of the Association of Latino Professionals for America (ALPFA) SXU chapter, and Yasmine Zavala, president of Unidos, a student leadership organization that works to encourage appreciation, promotion and preservation of the Latin American culture.
Patricia Santoyo-Marin, director of the Center for Inclusive Excellence, gave the official welcome. "Latinx Heritage Month is a month when we celebrate the contributions and the history of our community and honor and applaud the colleagues and students who enrich our campus," said Santoyo-Marin.
The first set of awards were given for student dedication to activities and organizations, honoring the Unidos Star (Fátima Almara), ALPFA Star (Alan Martínez-López) and Spirit Star (Isaac Torres), followed by a message from Imelda Macias, director of CASA. Macias discussed how CASA works to support students through their academic journeys by offering workshops, advising and tutoring services and provides faculty development opportunities to help faculty include culturally relevant pedagogy.
"It is an honor to receive the ALPFA Star Award at Estrellas de SXU 2020. We rarely get to see a group of minorities climb their way up in society, considering the obstacles that they face because of their backgrounds. Receiving this award demonstrates that SXU is staying true to one of their core values, which is to promote diversity," said Alan Martínez-López, a computer science and finance major.
The second set of awards honored the academic integrity of the Sophomore Star (Isabella Bernal), the Junior Star (Samantha Alvarado), the Senior Stars (David Villanueva and Yasmine Zavala) and the Graduate Stars (Jesse Gonzales and Sarah Salazar), followed by an award given to the EXPLORE STEM Star, Erica Rojas, who is heavily involved in EXPLORE STEM, a peer mentor and aspiring school of medicine candidate.
"I am very appreciative and thankful for Unidos, ALPFA and everyone involved in the planning and hosting of this award ceremony. It was such an honor to be recognized alongside other successful and hardworking classmates who are also a part of the Latinx community here at SXU. I'm so very thankful for my professors who decided to nominate me," said Isabella Bernal, a nursing major.
"It is an honor to be recognized in the growing community of amazing Latinx scholars at SXU. As part of the Latinx community, I believe we are a generation that must continue to persevere, excel and inspire others. I greatly appreciate my peers and the faculty and staff at SXU that have encouraged me and others to exceed expectations," said David Villanueva, a mathematics secondary education major.
Finally, awards were given to honor students, staff and faculty for their commitment to the SXU mission of service. Honors included the Community Engagement Award (Justo Arellano), Staff Service Star (Imelda Macias) and Student Service Star (Guadalupe Garcia).
The event was closed by Lopez, who thanked the attendees, emcees, RSO members, faculty, staff, students and community for celebrating the accomplishments of Latinx students and staff and Latinx Heritage Month.
"Latinx Heritage Month provides us an opportunity to celebrate the diverse history and culture of the Americas. We use the month to build community, educate ourselves and foster a wider acceptance of Latinx people in the United States. As the number of first-generation Latinx students entering higher education increases every year, it's important to celebrate their academic achievements and provide them opportunities to connect with faculty, staff and alumni who have been where they have been and can offer advice and support," said Lopez.
---