SXU's Cougar Student Managed Hedge Fund Featured in Financial Times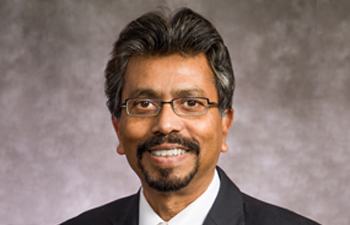 Saint Xavier University (SXU) finance professor Monzurul Hoque, Ph.D., was recently featured in the Financial Times for his work in creating and integrating a student-managed hedge fund into his coursework. The Cougar Student Managed Hedge Fund (CSMHF) is an innovative application of environmental, societal and governance (ESG) investments, and the Financial Times named it as one of the best examples of impact investments integrated in finance curriculum in the United States.
The Financial Times is one of the world/s leading news organizations and is recognized internationally for its authority, integrity and accuracy. It provides a broad range of information, news and services for the global business community.
"Being recognized in the Financial Times with other leading business schools for Dr. Hoque's in-class practices reminds us that Graham School of Management may be small in size, but powerful in creativity," said Mark Rosenbaum, Ph.D., dean of the Graham School of Management (GSM).
The CSMHF began in 2016 after a second Chicago Mercantile Exchange (CME) grant enabled GSM to allocate $40,000 as the seed money toward the CSMHF, giving assent to Hoque's request for the purpose of student success. Its first trading was done in May of 2017. The CSMHF is integrated into both teaching and research and is a large part of the student grade in the FINC 350 (Futures and Options) course.
"As far as we know, the CSMHF is the first of its kind in the United States. There are student-managed stock funds, but no hedge funds," said Hoque.
Students who manage the fund get placed with investment banks like Northern Trust and BMO Harris. Exchange traded funds (ETF) selected by students are chosen based on investment-worthiness, and they exhibit similar risk and return to the MSCI Markets index favorable to ESG practice. Often, employers who see CSMHF student reports remark on the uniqueness of learning these skills early on as they're generally learned in-house.
"We focus on providing practical skill sets to the students so that their marketability enhances considerably. That is why the CSMHF group project is an important part of the curriculum, where students learn how to attain risk-adjusted economic return and social rate of return – what is known as bottom line. These skills are highly sought after by employers," said Hoque.
Each semester, FINC 350 students exercise due diligence to analyze ETFs that are ESG-focused. Due diligence includes four parts: fundamental analysis, risk management analysis, technical analysis and mindset analysis. The students analyze each ETF as a group and after their analysis, they present their reports in front of an investment advisory board comprised of leading practitioners in the hedge fund industry and Saint Xavier finance faculty.
"So much success to this point is a direct function of the vision of Monzurul Hoque; I echo his acknowledgment and thanks to the CME Group for their foundational support, without which the fund might still be only a vision instead of an actual, student-led investment portfolio," said John Simmons, senior investment strategist with William Blair and member of the CSMHF Advisory Board.
Hoque's courses also exemplify the Saint Xavier difference. Though students analyze ETFs for economic rate of return, because SXU is mission-driven, they also select ETFs that will yield social return, too. Additionally, through SXU's Center for Financial Services and Derivatives, students can earn micro credentials using BarChart software. GSM is also working on using CME materials in courses and awarding CME certificates to students and the community at large.
"Dr. Hoque's finance class obtains real-world, practical experience, and his student-managed hedge fund exemplifies the notion of theory meeting practice and will impart the skills necessary to lead to meaningful employment opportunities," said Rosenbaum.
Hoque anticipates the CSMHF, which has achieved double bottom line, will continue to be successful and hopes that in the future, students will be able to manage part of the University's endowments.
---