SXU Gives Back During Holiday Season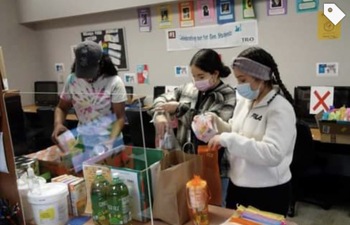 Saint Xavier University (SXU) faculty, staff and students are living the SXU mission to serve wisely and compassionately by giving back for the holiday season. Offices, departments and student organizations all around campus are working to impact the community by holding various drives and collections. The devastating effects of the COVID-19 pandemic left many in need this year, so the SXU community banded together to make the holiday season a little brighter.
For the second year in a row, the Office of University Relations held a Thanksgiving food drive to benefit the Pilgrim Faith Food Pantry in Oak Lawn. They collected non-perishable items, diapers and monetary donations and delivered over 15 large bags of food to the pantry, which will feed over 20 families this holiday season.
"Saint Xavier University inspires us to live out our mission and core values, and helping those in need is more significant now than ever. Because of the pandemic, so many people are in need of the basic necessities – fresh water, food, shelter – that we oftentimes take for granted. It has been a challenging year, but it is important to give to others out of love and respect to move into a brighter and hopeful 2021," said Alicia Roberson, director of marketing and communication projects.
The TRIO Student Success Program (SSP) hosted a service project by collecting donations to support BEDS Plus, a homeless shelter in Worth. They collected non-perishable food items and toiletries from the SXU community with collection boxes in the Warde Academic Center (WAC).
"At the SXU SSP, we encourage our students to live their lives through SXU's core values. Hosting this service project by collecting donations for BEDS Plus provides our SSP students with opportunities to engage in civic responsibility through selfless service and empathy, which is an added reward from their traditional classroom learning," said Manal Kaanan, Ed.D., SSP student support specialist and adjunct faculty.
"Giving back to the communities in need doesn't just mean donating random items. These are items that a human being will receive, so thought and effort should be put into these types of projects. While assembling the care packages, it made me realize the importance and worth of these items in our everyday lives," said Gabriela Garcia, an early childhood education major and SSP mentor. "We must live in gratitude, because at the end of the day, the little things matter the most and make the most difference. It's so important to help each other out in the best ways that we can, especially during a time like this."
The Transfer Student Services Center and Tau Sigma members gathered to collect items to send overseas for the troops along with handmade Christmas cards. They also assembled goodie bags for residents of the Belhaven Nursing and Rehabilitation Center in Chicago. Though they typically go to visit the residents to play bingo and sing Christmas carols, they were unable to do that this year due to the COVID-19 pandemic.
"One of the reasons I chose to go to Saint Xavier is because I am an individual that matches the core values that SXU believes in. Giving a helping hand to someone in need is something that is relevant and important in my life," said Rita Bilotto, an education major and president of Tau Sigma. "As a future teacher, I pledge to myself, my future students and my colleagues to be a light and shine it on anyone who needs it."
Every holiday season, Communication Sciences and Disorders (CSD) faculty and students work to spread holiday cheer to adults with disabilities at Misericordia, which provides care and programs for adults and children with intellectual and cognitive disabilities.
"Many of the adult residents do not receive any gift for Christmas, so we donate items. This year, we collected mittens, scarves, hats and small gift cards for places like Subway or Target. We thank everyone who helped to make their holidays brighter!" said Miriam A. Carroll-Alfano, Ph.D., CCC-SLP, CSD professor.
The American Red Cross Club formed a partnership with 19th Warde Mutual Aid and local service organization Southside KIN to collect non-perishable packaged food and hand sanitizer to give back to those in need at Morgan Park Presbyterian Church in Chicago.
The SXU Athletics Department donated gifts for children who attend Barbara Vick Early Childhood and Family Centers and Esmond Elementary School in Chicago. The department collected gifts through early December and had a socially-distanced gift-wrapping day in the Shannon Center.
"The SXU Athletics Department is dedicated to service within our community. This holiday season, the student-athletes are excited to provide holiday cheer to children whose lives have been affected by the pandemic," said Corry Irvin, head women's basketball coach.
SXU is proud of how its staff, faculty and students come together in times of distress to lead in living the mission of service excellence.
---