SXU Holds Annual Research Expo Virtually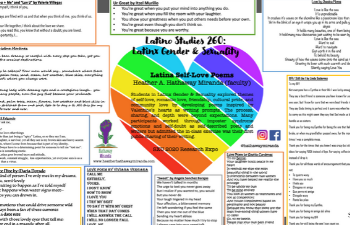 Saint Xavier University (SXU) recently held its annual Research Expo. In response to COVID-19 and the Illinois stay-at-home order, the expo was held virtually during the week of April 20. The Student-Faculty Collaborative Research Initiative reflects Saint Xavier University's leadership commitment to excellence in teaching, learning and scholarship, and the student-faculty teams of the expo engage in meaningful work while also providing an opportunity to address research questions.
Students and faculty conducted research, engaged in community-based projects, participated in fieldwork and produced the creative equivalent in the arts. Each school presented a series of projects complete with visuals and commentary on their research, and all projects were open to questions from the community. From poetry and photography to research papers and experiments, the projects were varied and fascinating. While just a few are highlighted here, each and every project was outstanding.
College of Arts and Sciences – Art and Humanities
Project Title: Critical Analysis of "Malcom in the Middle"
Scholar: Tatiana Alaraj
Projects from the College of Arts and Sciences' Arts and Humanities ranged from video and photography to 4D projects and poetry. Tatiana Alaraj, a communication major, wrote a critical analysis of the television show "Malcom in the Middle," which was accepted into the 2020 Central States Communication Association convention. "This paper attempts to answer the question of whether meritocracy is truly attainable for the lower middle-class in America. I conducted research on how generational poverty, health care expenses and college expenses impact this socioeconomic class and cause them to sink further in financial holes and compare it to episodes in the series that touch on these specific issues," said Alaraj.
College of Arts and Sciences – STEM
Project Title: Genetic Architecture of a Pitcher Plant Rotifer Habrotrocha rosa Metapopulation: DNA Sequence Variations in the Cox1 and Cob Genes
Scholars: Biane Alforookh and Liane Cochran-Stafira, Ph.D.
Scholars from the College of Arts and Sciences' STEM initiative presented projects with focuses on biology, mathematics and chemistry. Biane Alforookh, a biology pre-health major, worked with Liane Cochran-Stafira, Ph.D., biology professor, to study the genetic architecture of the asexual bdelloid rotifer Habrotrocha rosa found exclusively in the rain water-filled, pitcher-shaped leaves of the carnivorous pitcher plant Sarracenia purpurea, which contain an aquatic community composed of a number of obligate mutualists. "Our lab focuses on developing a detailed understanding of how the species in this community interact with each other and how the presence of this tightly evolved group of species benefits its host plant. We also ask more conceptual questions regarding issues such as food web dynamics in this model system," said Alforookh.
College of Arts and Sciences – Social Sciences
Project Title: Event Criteria Do Not Influence PTSD Diagnosis
Scholars: Tiffany Abrams, Samar Awwad and Carissa Broadbridge, Ph.D.
Projects from the College of Arts and Sciences' Social Sciences included a variety of presentations from the Psychology Department which explore cultural differences, women's health, music and memory, and more. Tiffany Abrams and Samar Awwad, psychology majors, along with faculty mentor Carissa Broadbridge, Ph.D., examined group differences in post-traumatic stress disorder (PTSD) symptoms among those who fit PTSD diagnosis criteria and those who do not. Through an online survey and series of questionnaires, participants recalled their most stressful and traumatic experiences. "The experiment suggests there are no significant differences in those who have PTSD symptoms in post-traumatic growth across those who fit and do not fit the diagnostic criteria, supporting the elimination of event and emotion diagnostic criteria," said Abrams. "Creating criteria that focus on the individual's interpretation or memory of the event may be more helpful in identifying those who are most likely to suffer from symptoms of PTSD."
School of Nursing and Health Sciences
Project Title: Closing the Health Literacy Gap: Strategies to Improve Medication Education in the Hispanic Community
Scholar: Gisselle Murillo
The School of Nursing and Health Sciences presented projects that discussed topics such as health literacy, the effects of caffeine on athletes, vaping awareness, community health and more. Gisselle Murillo, a nursing major, worked with faculty mentor Charlene Bermele, DNP, RN, CNE, to study strategies to improve medication education in the Hispanic community, examining how a health literacy gap, language barrier and lack of knowledge put the Hispanic community at a disadvantage for comprehending medication use. "The project focuses on identifying effective strategies that are found to be useful when educating Hispanic patients about their medications because the high rate of underlying health conditions in this population makes medication education especially important," said Murillo.
SXU is incredibly proud of the scholarly work of its students and faculty and looks forward to many more awe-inspiring projects!
---