SXU Holds Blood Drive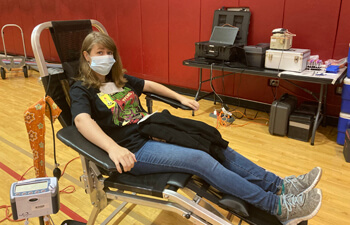 Saint Xavier University (SXU) held a blood drive on October 5 to help give back to those in need of blood donations during the COVID-19 pandemic. Nearly 30 faculty, staff and students donated blood, and with each single donation saving up to three lives, the SXU community truly exemplified the University's Mercy mission in their dedication to serve compassionately.
"A blood drive is all about giving back to those who need it most. It's a selfless act of compassion, and our SXU faculty, staff and students came together to show how giving back to those in need is what SXU and our mission is all about," said Jen Quinlan, facility director of the Shannon Center.
The COVID-19 pandemic has caused unprecedented challenges to the nation's blood supply. With fewer people willing to donate blood due to heightened fears and concerns about the pandemic, the need is consistently growing, particularly for blood transfusions needed in emergent cases, including trauma, cancer care, surgical procedures and more. According to the FDA, blood donations have been dramatically reduced because of social distancing and canceled blood drives. Since the start of the pandemic, more than 60,000 blood donations across the Midwest have been lost. Because maintaining adequate levels of the nation's blood supply is critical, those who volunteer contribute immeasurably to the nation's public health.
"Donating blood is the most precious gift that someone can give to another person, and with donations declining due to COVID-19, it's especially important now," said Kathy Rohan, director of the Health Center.
To adhere to safety protocol, all donors received screenings, temperature checks and a standard detailed health evaluation before donating. Social distancing was observed within the recreation center where the donations took place, and all attendees and employees wore required face coverings.
"It's quick and easy, so if you're able to, why not just do it?" said Shannon Ryan, a psychology major and frequent blood donor.
Donors were also tested for the SARS-CoV-2 antibody test. Those with positive results can later choose to donate plasma, which contain recovered antibodies that provide immune support. The plasma may help hospitalized individuals experiencing life-threatening complications fight COVID-19.
"When my grandkids ask me what I did during the COVID-19 pandemic, I can say I gave blood," said Joel Redman, a psychology and art student.
"Our SXU community truly lives our mission daily," said Quinlan. "They've extended themselves in merciful action on behalf of others in need, and they've saved lives."
---