SXU Holds Nursing Anniversary Kickoff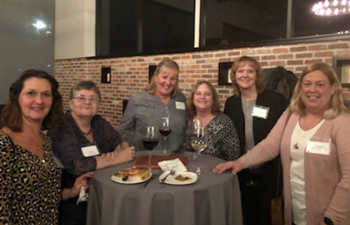 Saint Xavier University (SXU) kicked off the celebration of the 85th anniversary of the nursing baccalaureate program on January 23. In 1935, Saint Xavier and Mercy Hospital launched the first integrated baccalaureate program in Illinois, providing students with hospital-based laboratory courses and clinical practice hours in an intensive four-year collegiate nursing curriculum. Eighty-five years later, SXU remains committed to providing a high-quality, transformative education to its students, graduating approximately 175 undergraduate nursing students each year through the School of Nursing and Health Sciences.
"The Nursing Wine Reception was a great success! It was wonderful to see nursing alums from a wide span of years come together. In some cases, classmates who hadn't seen each other in many years were excited to renew acquaintance and catch up. The energy in the room was palpable," said School of Nursing and Health Sciences Interim Dean and professor Michele Poradzisz, Ph.D., RN, CNL, CNE.
Attendees also had an opportunity to learn about the new nursing alumni affinity committee at SXU. The purpose of the group is multifaceted. Members will share their experiences by participating in employment fairs, mentoring students and spreading the word in social and professional circles. Alumni participation helps to ensure a Mercy education for future generations, and current students enjoy getting a glimpse of their futures by seeing what alumni are doing. "There are no better advocates of a university than its alumni, so now more than ever, universities are utilizing the extensive resources of their alumni to access a greater audience," said Jeanmarie Gainer, director of Alumni Relations.
Poradzisz considers many of the successful alumni who attended to be champions of the nursing program and looks forward to watching them positively influence other alumni and students. "Many former and current faculty attended and were pleased to have the chance to catch up with former students. It was nice to learn what alums are doing now. Many have advanced professionally and have gone on to higher degrees or certification in nursing. The participation in this event demonstrates the connection that alums have with SXU's nursing program," added Poradzisz.
The observance will continue throughout the year, culminating in a nursing alumni celebration to take place October 3-4, 2020. To learn more about the nursing alumni committee or for questions about the anniversary celebrations, contact Jeanmarie Gainer at alumniFREESXU or 773-298-3316.
---