SXU Holds Sixth Annual Student Health Fair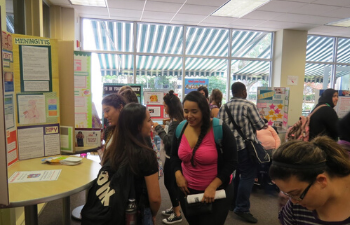 Saint Xavier University (SXU) will hold its sixth annual Student Health Fair on Wednesday, February 5 from 11 a.m. to 1 p.m. in the SXU Diner. Students will learn about a variety of health topics that are important to young adults in a relaxed, fun environment, as well as gain more knowledge about the health and wellness services that are offered at SXU.
Various departments will present material on critical topics for students:
Health Center: Sexually transmitted infections (STIs), vaping, cannabis and the importance of sleep, vaccines and nutrition
Counseling Center: Interactive activities about the effects of alcohol levels on reflexes and cognition
Shannon Center: Exercise science and fitness challenges with prizes
Student Nurses Association: Blood pressure
Communication Sciences and Disorders (CSD): Information about hearing loss and free hearing screenings
Campus Ministry and Public Safety will also participate. Outside vendors include massage therapists, Pillars Community Health, who will provide information about their services, including sexual assault and domestic abuse hotlines and Hologic, who will present information about the importance of getting tested for STIs.
"We started the Student Health Fair in 2013 to offer health information that is important to young adults. We emphasize topics like sexually transmitted infections, mental health, drug and alcohol use, exercise and nutrition. Plus, it's a really fun way to get the health and wellness departments together in one space," said Kathryn Schlee, FNP-BC, director of Clinical Services.
Students can enjoy free massages, fitness challenges, guided imagery, giveaways and refreshments.
This event is open to SXU students only. For more information, please contact Jennifer Quinlan at quinlanFREESXU.
---