/
/
/
SXU Honors Program Students Present at the Harlem Renaissance Living Museum
SXU Honors Program Students Present at the Harlem Renaissance Living Museum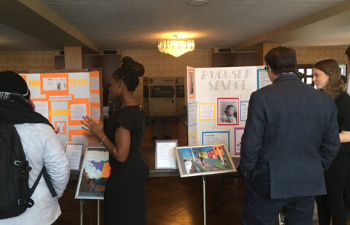 Saint Xavier University (SXU) Honors Program students presented original works of art inspired by Harlem Renaissance artists on February 26. One of many Black History Month events at SXU, the "Harlem Renaissance Living Museum" featured 12 different Harlem Renaissance notables. Patrons of the museum got to visit each student's chosen Harlem Renaissance character and learn more about the character's contribution to the historical American legacy.
In addition to their presentations on the lives and accomplishments of the notables, students also created original art pieces inspired by the works of the artists they studied. Many of the pieces were truly powerful and thought-provoking. Sekoya Pelayo, a criminal justice major, created a piece called "The New Jim Crow," representative of biracial identity and the mass incarceration of African-Americans and Hispanics. "It was a great experience to learn about lesser known figures of the Harlem Renaissance and take on their roles and convey their passions in these exhibits," said Pelayo, who presented the work of Ma Rainey, one of the earliest African-American blues singers and one of the first to record.
Biane Alforookh, a biology pre-health major, did her presentation on Selma Burke, a sculptor who designed a bas-relief portrait of President Franklin D. Roosevelt, inspiration for the profile found on the obverse of the dime. "I never knew about her," said Alforookh. "It's great being able to talk about her and finally give her the credit she's always deserved. Not many people know that she inspired the portrait on the dime, so it feels good to spread the word." Alforookh's art piece, titled "Earth is Not Okay," features a portrayal of the earth as a skull, complete with burning continents and an overload of oil and pollution, a representation of the global warming crisis.
"The experience was one of transcendence," said Tracy Crump, Ph.D., professor of criminal justice. "I always expect that students will learn, but in this case, we were able to see students internalize the experience of someone unlike them. Students could see why the material is necessary to cover. We started at the transatlantic slave trade and then worked through the Great Migration to the Harlem Renaissance. Seeing the students put themselves in the artwork and watching them grow before your eyes is amazing. Dr. Rossetti and I could not be prouder of these students."
Bridget Giblin, a biology pre-health major, did her presentation on Countee Cullen, one of the most representative voices of the Harlem Renaissance. Cullen was a poet, novelist, writer and playwright who believed that art transcended race and could be used to minimize the distance between races. Giblin found the experience enlightening. "I didn't know a lot about him, but having learned more about his career opens up my eyes to the lack of opportunities African-American artists had, and it was amazing that he created these opportunities for himself," said Giblin, who designed an art piece representative of the earth's deterioration.
"The beauty of this course is that not only have students learned about a literary period, but they made sense of it by being engaged with the art through their own disciplines," said Gina Rossetti, Ph.D., associate professor of language and literature.
Drs. Crump and Rossetti are also thankful for the contributions made by Nathan Peck, department chair of art and design, and Shawn Salmon, Ph.D., director of jazz studies, who taught guest lectures on art and music analysis. SXU is incredibly proud of its faculty and students and their quest for learning, engaging and creating.
---