SXU Hosts 17th Annual Health Fair - Canceled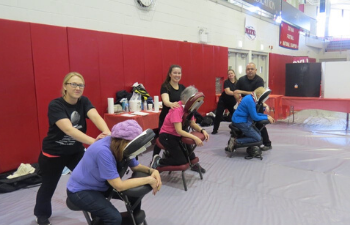 In response to the rapidly growing number of cases of novel coronavirus (COVID-19), the Health Fair has been canceled. Saint Xavier University is committed to protecting the health and safety of its students, faculty and staff, as well as the health and safety of our community members. We recognize that these challenging times require significant measures to address a health risk that affects us all. The University is working to address the situation to potentially reschedule this event. Please continue to monitor our Coronavirus page for the most up-to-date information.
Saint Xavier University (SXU) will hold its 17th Annual Health Fair on Friday, March 20 in the Shannon Center. The fair, which runs from 8:30 a.m. to 12:30 p.m., will include a wide variety of participating health vendors and is free and open to the public. Free health screenings, assessments, demonstrations and information will be available. Attendees can take advantage of services for screening blood pressure, blood glucose, bone density, hearing and vision, spinal cord, injuries, stress, body mass index and more.
Guests can enjoy refreshments, 15-minute chair yoga every hour on the hour, visits from Rainbow Therapy Dogs and raffle giveaways with prizes by attending representatives from local hospitals and health centers, counseling centers, SXU student organizations, local businesses and more.
This year, the Shannon Center had a little extra help from SXU nursing students—they recently teamed up to contribute to the planning and promotion of the SXU Health Fair. Zepure Samawi, Ph.D., RN, professor of nursing, and Jennifer Quinlan, Shannon Center facility director, collaborated in an effort to involve nursing students in activities related to health and wellness, something they plan to continue to do in the future.
While planning the event, nursing students also received education from communication professor Cynthia Grobmeier, an advocate for organ donor awareness in celebration of her late daughter, Maddie Grobmeier. Nursing students learned about the significance of educating the community about the impact of blood and organ donation. The students found the experience meaningful and are looking forward to helping the community understand and sign up for blood and organ donation at the Health Fair.
"It's amazing how the students perceived this meaningful learning experience," said Samawi.
The nursing students found the clinic inspirational and rewarding. "I enjoy advocating for those who need the most help, such as those who need blood and organs. It will be my pleasure to encourage others to sign up, and I think it will warm their hearts knowing they'll potentially save lives!" said Lexie Mori.
"Today's clinical experience opened my eyes to the power of organ donation. After learning about the Maddog Strong Foundation, I plan to strongly encourage everyone I know to sign up for both state and national-level organ donation," said Maura Smith.
"I learned how much dedication it takes to organize a health fair," said Carmen Pérez. "It was a great learning experience, and I am looking forward to recruiting community members for the blood drive and teaching them more about organ donation."
All are invited to attend at SXU's Chicago campus at 3700 West 103rd Street.
---