SXU Scholarship Students Develop Plan for Mercy Monarch Garden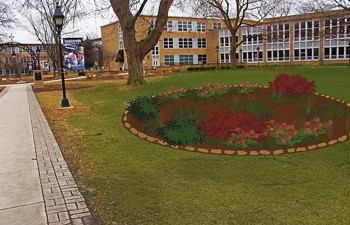 Saint Xavier University (SXU) student recipients of the 2019-2020 Mercy Scholarship and their faculty and staff mentors recently developed a project for establishing a butterfly garden on campus grounds. Plans for a project to build a "Mercy Monarch Garden" seek to inspire an active, physical environmental change on campus in correlation with the Sisters of Mercy Critical Concern for the Earth.
The Mercy Monarch Garden would make up a small habitat area for native plants and pollinators. It combines the Mercy community's national Monarch Milkweed project with the team's objective to protect the Karner blue butterfly, an Illinois species at risk of extinction. The uniqueness of the Mercy Monarch Garden is that it would be double-certified through both the Monarch Milkweed Project and the North American Butterfly Association, which ensures the garden includes specific plants that would attract both Monarchs and Karner blues.
Five SXU students and recipients of the Mercy Scholarship --Emily Malchow, Tess Bowens, Rachel Garcia, Xanthia Gaines and Corina Salas-- along with Kathleen McInerny, Ph.D., education professor, and Jenny DeVivo, Ph.D., executive director of Mission and Heritage, brainstormed how to focus on the Critical Concern for the Earth during a roundtable discussion, and Malchow spent the fall 2019 semester developing a three-step sustainability plan for SXU's grounds (with the butterfly garden being the first step), which includes recommendations for funding, planting, location, marketing and more.
"Since Earth is experiencing rapid rates of wildlife loss, the Mercy Monarch Garden is meaningful because it intends to increase population, biodiversity and habitats of native pollinators and plants, reduce SXU's pesticide use, preserve natural spaces in Chicago and, most importantly, allow SXU to demonstrate a tangible, sincere effort to address the climate crisis by adopting sustainable practices," said Malchow.
Planning for the garden is robust and ambitious, with careful consideration in meeting requirements of the Monarch Milkweed Project and the North American Butterfly Association. The team engaged in flora consultation with botanist and Chicago landscape designer Rinda West to discuss how to implement non-invasive, native plants that would support monarch larvae, including a variety of milkweed for the Monarchs, host plants for the Karner blues and perennials that grow back regularly each year to support all four stages of a butterfly's life cycle. They also consulted with Tim Lahey, SXU grounds supervisor, to discuss organic management of the garden, which would require hand-pulling weeds rather than using pesticides or herbicides.
The team also worked to identify potential planting sites, finding the Smith-Morris Quad to be the most appropriate location. After organizing all of their findings, they built and designed a public website to provide information and communication to the SXU community. Finally, Bowens, a graphic design major, created a logo and 2D model of the garden.
"The Mercy Monarch Garden promises to be aesthetically pleasing and, perhaps most significantly, reminds us of our duty to sustain Earth's biological diversity. Emily's indefatigable, thoughtful work offers all of us some much-needed hope," said Robert Mellin, Ph.D., English professor and an early mentor for the project.
Malchow believes the garden is tied to institutional mission and core values because it is a direct response to the Critical Concern for the Earth of making good ethical judgments about the disposition of the world's resources. "The Mercy Monarch Garden actively puts this mission into practice. Using a portion of campus grounds for the garden allows SXU to be a steward of God's creation, which ensures the University is making good ethical judgments about the world's resources," said Malchow.
As the team looks to the future, they are certain that implementation of this garden would be incredibly beneficial for both the Earth and the campus community. Malchow hopes to eventually see the additions of a bee garden and a small prairie (as second and third steps of the sustainability plan) follow the butterfly garden. In addition to marketing the campus as a sustainable green campus and holding community-wide events to promote conservation awareness and sustainability, the garden also creates opportunities for new coursework that spans the fields of biology, botany, horticulture, ecology or beekeeping. Malchow hopes to conduct longitudinal research that monitors the Mercy Monarch Garden's efficacy over time, potentially in conjunction with members of the Biology Department.
Malchow encourages all members of the SXU community interested in getting involved to participate in a campus-wide survey about implementing the butterfly garden and also reminds students to connect to their Mercy values by engaging in servant leadership and advocating for Earth.
"The Mercy Monarch Garden, though small in size, would be a profound contribution to pollinator conservation. It would engage the Mercy mission, our University's mission, and the seventh principle of Catholic Social Teaching [care for God's creation]," said Malchow. "If accepted by SXU administration and successfully planted, the Mercy Monarch Garden would be a long-lasting testimony of Saint Xavier's dedication to global sustainability."
---