SXU Nursing Students Participate in Chalk the Walk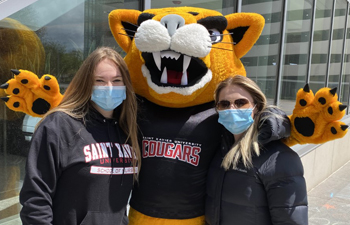 Saint Xavier University (SXU) nursing students recently participated in Advocate Christ Medical Center's "Chalk the Walk" event in honor of National Nurses Week. The event promotes spreading positivity, joy and inspiration through the power of sidewalk chalk. On a chilly May morning, students set to work decorating hospital sidewalks in the hopes their efforts would shine as a beacon of optimism in the midst of the COVID-19 crisis.
"Their actions warmed the hearts of many. They could have been lounging in their pajamas, but they went the extra mile to put smiles on many faces. I drove by the hospital later and was impressed to see their artwork extend from the front of the hospital to Kostner Avenue. We really have some great artists, which comes in handy since the profession of nursing is an art and a science. We are so proud of them, as they are SXU and their actions exemplify our mission," said Director of Online Nursing Programs and professor Charlene Bermele, DNP, RN, CNE.
Despite not being able to be in hospital settings the past few months, SXU nursing students are eager to join the nursing workforce and wanted to share their support for nurses by participating in the event.
"This was a great way to show our support to the local community hospital, and it was so much fun seeing the staff's smiles. Although it's a small gesture, it's a meaningful message for health care workers, and it gives them hope," said nursing major Rawya Jadrawi. "We are struggling together. Therefore, we must support one another together. SXU stands by all the health care workers at Advocate Christ Medical Center, and we really thank them for all they have done!"
In addition to the celebration of National Nurses Week, the World Health Organization has designated 2020 as the International Year of the Nurse and the Midwife, which is especially appropriate given the extraordinary ways that nurses have risen to the challenges presented by COVID-19. The designation, which is intended to honor the 200th anniversary of Florence Nightingale's birth and advance nurses' vital role in transforming health care around the world, is especially important to nursing faculty and students.
"Our students are already responding to the challenges presented by COVID-19 by working on the frontlines of health care agencies throughout the Chicago area, serving their communities in numerous other ways and simply exercising persistence throughout the nursing program despite many personal challenges. Their resilience and strength are inspiring to us, and we know that patients will be in good hands with these future nurses," said School of Nursing and Health Sciences Interim Dean and professor Michele Poradzisz, Ph.D., RN, CNL, CNE.
While SXU celebrates the tenacity and strength of nurses and future nurses every day, the event was especially meaningful to students who will be working in the health care field soon, and their chalk messages were intended to symbolize both support and unity.
"It was such a rewarding experience being able to promote positivity and optimism along the sidewalks of the hospital. It's an amazing way to show appreciation by infusing the sidewalks with powerful sentiments and a great opportunity to reaffirm the admiration of the community to the medical personnel who risk their lives every day," said nursing major Mary Rabadi. "An event like this is one way we can show our appreciation for the heroes working on the front lines. This is representative of the values SXU instills in its students and faculty. As a future health care worker, I think supporting, uplifting and recognizing the heroic acts of these workers serves as a beacon of hope."
---